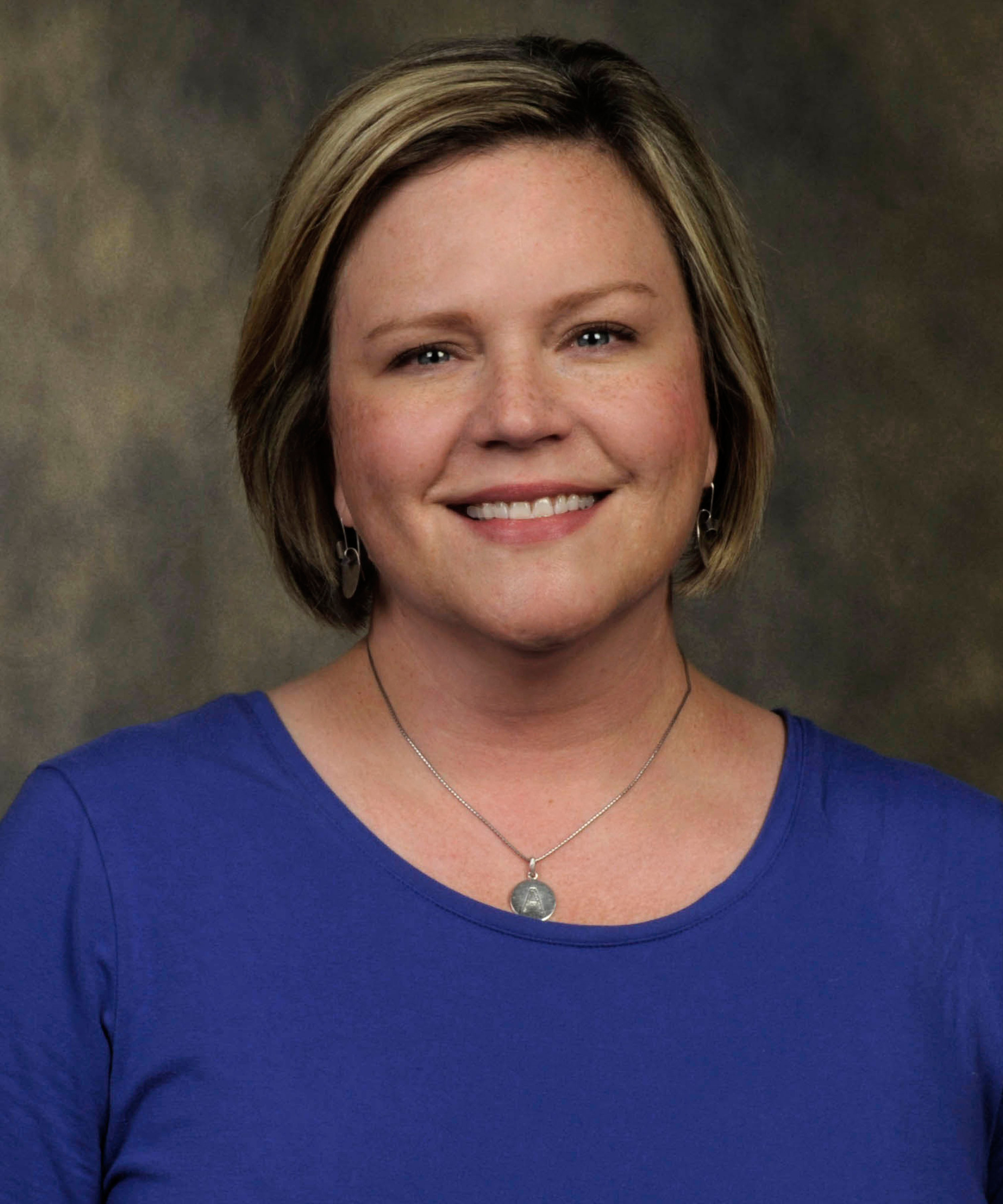 For Amy Engelhoven, the new director of UCF's Aphasia House, language has always been her passion. She studied communications and Spanish in college, and even spent a year abroad in Spain, immersed in the language.  However, the Neosho, Missouri native did have a brief, ill-fated foray into the world of banking after receiving her bachelor's degree.
Engelhoven's father was a banker, and he had arranged for her to work at a bank, obviously hoping she would acquire a love of all things fiduciary. Engelhoven lasted 18 months before she sat down with her father and broke the news that she wanted to go back to school to become a speech-language pathologist. "What's a speech-language pathologist?" asked her father.
Now, some 20 years later, Engelhoven's decision to go back to school proved to be an investment her father would approve of. "He's proud of me," Engelhoven said. "He knows I would have been a terrible banker."
As an assistant professor of communication sciences and disorders at Baldwin Wallace University in Berea, Ohio, Engelhoven started a small aphasia group that helped clients focus on socialization and communication. Aphasia is her "one, true love," she said.
In a twist of fate, Engelhoven discovered there was an opportunity at UCF that might be of interest. When speaking with Richard Zraick, her former doctoral mentor at the University of Arkansas for Medical Sciences (and now chair of UCF's Department of Communication Sciences and Disorders), he indicated there was a position at Aphasia House that would soon become available. Engelhoven had previously heard of Janet Whiteside and her remarkable clinical success at Aphasia House. "I was extremely intimidated," Engelhoven said. "It's more than a job for her; it's her life's work."
Aphasia House is an "intensive, comprehensive Aphasia program (ICAP)." Potential clients are assessed prior to admittance to determine if the rigors of the program would be beneficial to them. The treatment is then tailored to their specific needs. "What is important to them, what do they want to work on," Engelhoven explained.
The graduate clinicians work under supervision to provide therapies for their clients. A team of four students meet with the client for an hour apiece each day, four times a week. It is intensive for the clients, the students and the clinical staff. Engelhoven said she was amazed by the amount of time that her predecessor dedicated to her clients, both at Aphasia House, and working at home on nights and weekends.
"I don't know when she sleeps," Engelhoven said of Whiteside. "And I live with her!" For eight weeks, as Engelhoven and her husband, Chris, were settling affairs in Ohio, Whiteside invited her to stay with her. There, the two bonded personally and professionally, ensuring a smooth transition in Aphasia House leadership.
"Dr. Engelhoven brings a similar commitment and passion as I have to pursue educating the next generation of speech/language pathologists in the most expeditious treatment delivery options and programs to improve the quality of life for persons with aphasia," Janet Whiteside said. "I could not be more pleased to pass forward the Aphasia House philosophy to Dr. Engelhoven. I am excited to see how she will build upon the foundation with new collaborations and research ventures."
Whiteside believed that although she was called to develop Aphasia House, she trusted she would find the right person to continue its mission. Engelhoven said she hopes to help expand the program to help even more people, and do "even greater things."
Engelhoven would like to increase the number of bilingual clients involved in the program. This would mean increasing the number of bilingual students as well, she said. She is interested in finding a sustaining donor who would provide scholarships for clients who cannot afford Aphasia House services. And, she said, she is interested in providing telehealth options for clients who are unable to travel to the area for therapy.
Engelhoven and her husband are excited to be part of the UCF family and are both looking forward to this school year and beyond.
"Dr. Engelhoven brings many years of clinical experience and a strong research background to her role as director of Aphasia House," said Richard Zraick. "She is a compassionate person who truly cares about our clients and their families. She is a great professional role model, and we are fortunate to have her teaching the next generation of speech-language pathologists."