CHPS RESEARCH STUDIES
Neuromuscular Attributes during Deadlift Variations in Individuals with Acute, Nonspecific Low Back Pain: A Pilot Study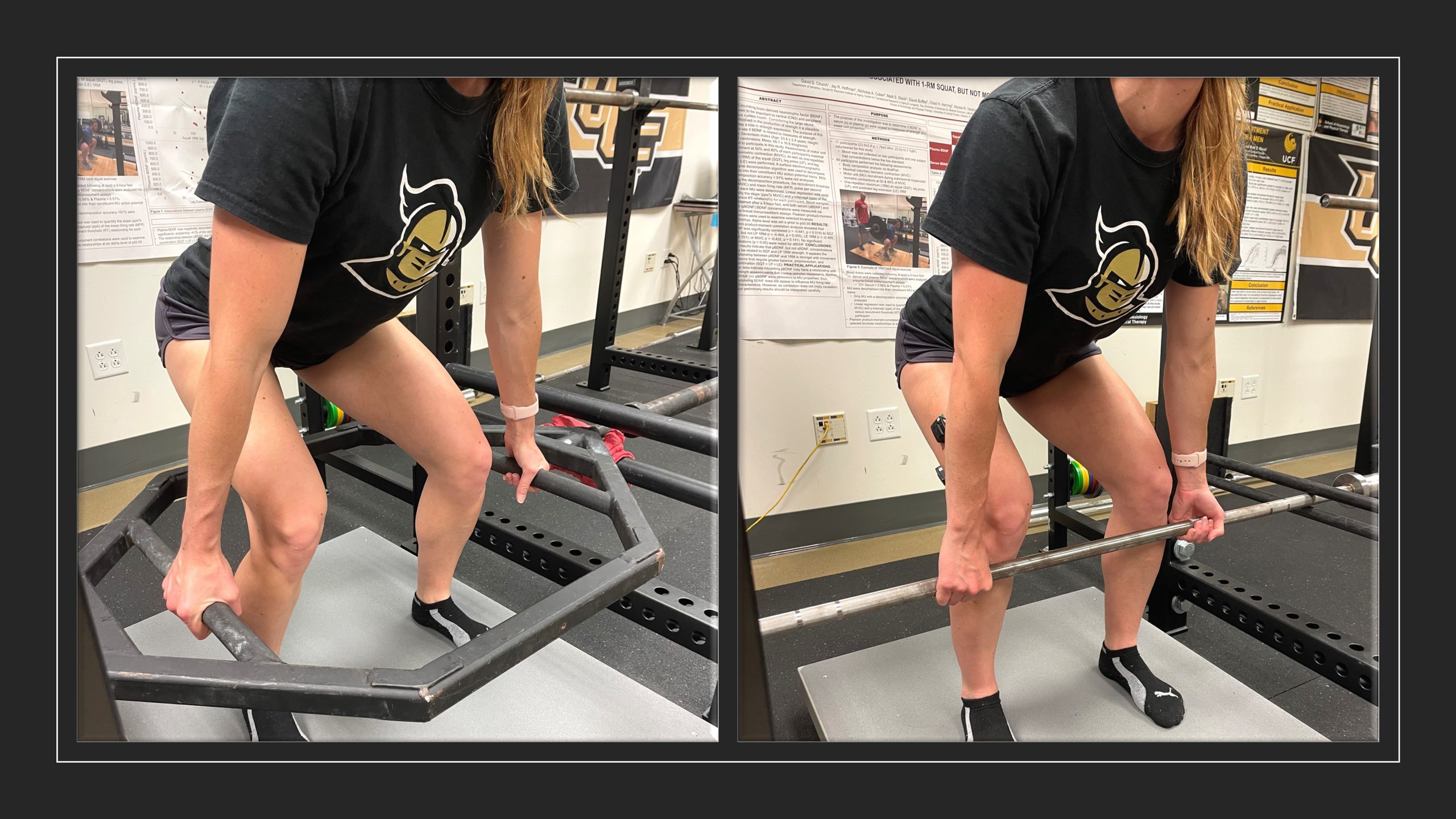 The purpose of this study is to examine and compare muscle activation during a maximal isometric contraction when performing a straight barbell and hexagonal barbell deadlift in patients suffering from acute nonspecific low back pain versus those that are not. Our secondary objective is to determine whether the straight barbell or hexagonal barbell deadlift provides differing levels of confidence and perceptions of safety in this patient population. We expect that you will be in this research study for no more than 2 hours. The study requires you to visit the UCF Neuromuscular Plasticity Laboratory for a single visit which should take up to 2 hours. Your participation will conclude once you have completed the single laboratory visit.
Inclusion Qualifications:
Men and women between 18-35 years of age
Resistance training experience (minimum of 2 sessions per week for past year)
Presence of acute, nonspecific low back pain (***not a requirement, as individuals that only meet the first 2 criteria are also eligible***)
Exclusion Qualifications:
You may not participate in this research opportunity if any of the following applies to you:
Do not meet the resistance training experience requirements (≥ two resistance training session per week over the previous one year
Neuromuscular disease (e.g. Parkinson's, MS, ALS)
Metabolic disease (e.g. diabetes, thyroid disorder, metabolic syndrome)
Arthritis in the upper or lower extremities (hands, arms, shoulders, hips, knees, ankles)
Trouble using or controlling one's muscles
Use of anabolic steroids within the previous year
History of cancer
History of stroke
History of heart attack
Use of muscle relaxants or benzodiazepines
Allergy to rubbing alcohol
Any other health related illnesses that would prohibit a participant from physical performance testing
Lack of transportation to and from the laboratory
History of spinal surgery
Presence of radiculopathy
Presence of herniated or bulging discs
Presence of sciatic
Previous corticosteroid injection treatment.
Get Notified of Future Opportunities
Subscribe to our email list to be automatically notified of all future research participation opportunities as soon as they become available.
UCF IRB#: STUDY00003020
PI: Matt S. Stock, Ph.D.
IRB Expiration June 3, 2022
Recruitment End Date:
November 29, 2021
Location:
Education Complex and Gym
12494 University Boulevard
Orlando, FL 32816
Time Commitment:
Number of visits: 1
Expected time per visit: 2 hours
Compensation:
Type: $10 Target Gift Card
Point of Contact:
Jenna Bloch
Associated Units:
Kinesiology
Physical Therapy
Exercise Physiology & Rehabilitation Science

Related Research Participation Opportunities