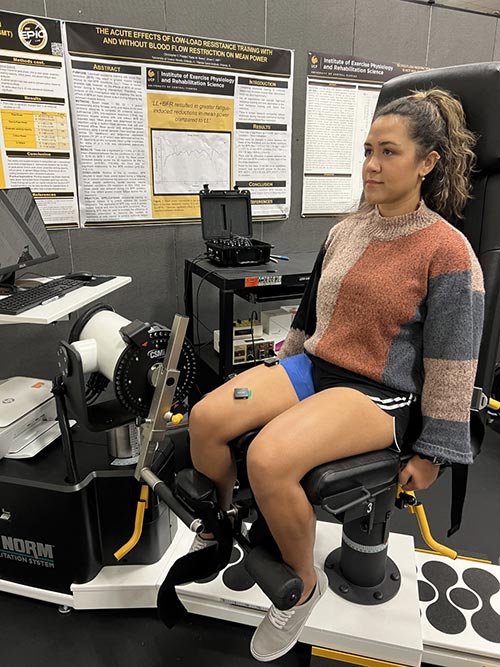 The purpose of this study is to assess maximal strength output when using blood flow restriction (BFR) vs non BFR. This study consists of 3 visits: 1 consent and familiarization visit (90 minutes) and 2 strength assessment visits (90 minutes each). The total time commitment for this study is about 4 1/2 hours.
Inclusion Qualifications:
Resistance trained females between the ages of 18-35
Trained individuals are defined as having resistance trained at least 2x/week for the past 6 months as per ACSM guidelines
Willing to come in for all testing visits
Exclusion Qualifications:
You may not participate in this research opportunity if any of the following applies to you:
Any known cardiovascular, pulmonary, metabolic, muscular, and/or coronary heart disease
Any known prior or consistent knee injuries
Regularly using prescription medication (not including birth control)
Are currently seeking medical care for a chronic condition that could limit exercise capacity
Are currently pregnant
Participate in this Research
Submitting this form will put you in contact with the main point of contact for this project. They will provide more information and determine if you meet all of the qualifications needed.
UCF IRB#: STUDY00004665
PI: John Lawson
Recruitment End Date:
October 10, 2023
Location:
Education Complex
12494 University Blvd
Room 174
Orlando, FL 32816
Time Commitment:
Number of visits: 3
Expected time per visit: 90 minutes
Point of Contact:
John Lawson
Associated Units:
Athletic Training
Kinesiology
Physical Therapy
Exercise Physiology & Rehabilitation Science

Related Research Participation Opportunities