UCF Unveils First-of-its-Kind Therapy Cafe in Florida. Knights on the Go Café was developed by UCF Go Baby Go!, an initiative of the UCF Doctor of Physical Therapy Program, Aramark, UCF Business Development, the UCF College of Health Professions and Sciences, and Professor Cole Galloway at the University of Delaware. The café uses harness technology to offer an innovative and immersive opportunity for individuals with motor impairments — and incorporates both physical and vocational rehabilitation.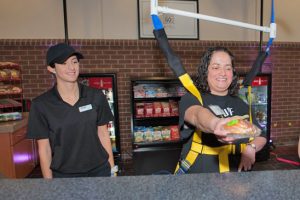 The idea of a mobility café began with one wish from a young woman who had a traumatic brain injury (TBI) caused by a car accident. She wanted to work in sales and interact with people.
That wish got Cole Galloway, professor of physical therapy at the University of Delaware, thinking about mobility issues and real-world rehabilitation for individuals recovering from TBIs.
Galloway, also an inventor, had created an inexpensive way to provide mobility to small children combining battery operated ride-on cars with parts from the local hardware store. Next he wanted to develop a way for patients to experience physical rehabilitation using real-world scenarios.
Based upon the young woman's desire to work in sales, Galloway created a harness system that could be attached to the ceiling of a small kiosk. With guide bars overhead, the system could support the patient and provide full mobility in any direction. The Go Baby Go Café at the University of Delaware was born, and within weeks the patient was selling ice cream, making coffee and handling cash.
The UCF Doctor of Physical Therapy Program had partnered with Galloway to establish the UCF Go Baby Go! initiative, under the direction of pediatric specialist and DPT faculty member Jennifer Tucker. Adding a mobility café was a natural next step. The partners assembled the kiosk in the atrium of the Health Sciences building I (HS I) and Aramark became the food provider.
Knights on the Go Café opened for business in January 2016 and is now helping to transform the lives of a local TBI patients, including Diana Tafur, pictured above.