Available UCF Physical Therapy Scholarships
We offer an array of scholarships for students in the Physical Therapy graduate program. For all scholarships administered by UCF, students must apply through the A2O platform. Students are encouraged to apply as soon as applications become available, typically in the latter half of the spring term. Some scholarships in the A2O system are specifically for UCF Physical Therapy students, while other scholarships are available through the college and the university. We encourage students to apply for all scholarships they qualify for.
| Award | Name |
| --- | --- |
| $6,000 | Jack D. Holloway Endowed Scholarship |
| $1,500 | Invincible Knights |
| $1,000 | CHPS College Wide Graduate Scholarship |
| $1,000 | Russ Marek Medical Endowed Scholarship |
| $500 | Nirvana Health Services Endowed Scholarship |
External Scholarship Opportunities
These scholarships are awarded by outside organizations and are not reflected in the UCF A2O system. However, many of our students will qualify for these scholarships. Please use the links below to learn more about these scholarship opportunities.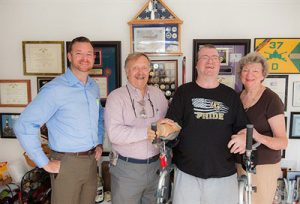 The Russ Marek Medical Endowed Scholarship is a $1,000 scholarship made possible by charitable donations by UCF Alumnus Adam Marek and his family, in honor of hisbrother, Russ, who was severely injured during his second tour of duty in Iraq.
The Mareks support UCF's physical therapy program because they are 100 percent certain that Russ would have remained a quadriplegic without the wonderful physical therapists who were with him every step of the way. "I have gotten a lot better," Russ said, smiling. "I can do anything I set my mind to."
Adam and his family established the Russ Marek Medical Endowed Scholarship for full-time graduate students in the Doctor of Physical Therapy program. The program fosters excellence through its dedication to advanced clinical practice and patient-centered care.
APPLY BY MARCH 12th
Scholarship applications are only available online through the A2O portal. You will only see scholarships for which you meet the basic eligibility requirements.
Establishing your own scholarship program is an excellent way to create a legacy and support promising and deserving students. These gifts can also be a meaningful act to honor or memorialize friends, educators, or family members. Your generosity will ensure that the best, brightest, and most deserving students are supported on their path to excellence.