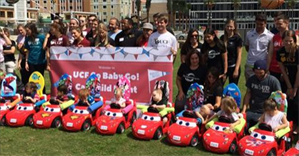 The Doctor of Physical Therapy Program's UCF Go Baby Go! program, located in the Department of Health Professions, held another successful car-build workshop Sept. 9 at the FAIRWINDS Alumni Center. Learn more about this exciting mobility initiative below.
News Coverage
Orlando Boy Trades in Wheelchair for Toy Sports Car (video) – September 2016 – Orlando Sentinel
Go Baby Go! UCF Program Helps 10 Kids with Special Toy Cars – Sept. 9, 2016 – News 13 Orlando
Go Baby Go! Helps Disabled Kids Get Moving – Sept. 9, 2016 – Fox 35
UCF's Go Baby Go! Helps 10 Children with Disabilities Move – Sept. 10, 2016 – KnightNews.com
Children Who Can't Walk Race Mini-Cars at UCF Event – Sept. 11, 2016 – UCF Today
Moving Moment
Ten, red Lightning McQueen cars lined up side by side at the edge of Memory Mall on Friday. Their drivers were all ready to push the go button on their steering wheels at the sound "start your engines."
Ten children received motorized, child-sized cars at a build event sponsored by Orlando Health for GoBabyGo. GoBabyGo is a national effort to provide children without the ability to walk, a way to get around. The organization retrofits motorized toy cars for children with special needs.
Friday's event took place inside the UCF FAIRWINDS Alumni Center from 9 a.m. to noon before the kids took their wheels outside for a spin. Dr. Lindley Westervelt, a physical therapist at Arnold Palmer Hospital for Children, is a two-time alumna who graduated from UCF's physical therapy doctoral program in 2011 and was on hand to lend assistance.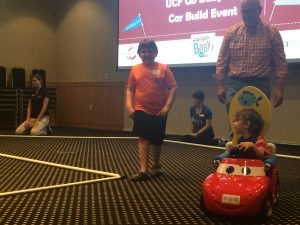 She helped put together and modify the cars in the same room that her graduate banquet was held in while she was a student. The cars were outfitted with pool noodles, swimming kick boards and other materials to ensure safety and stability for their drivers.
"I think it's great to see the alumni working with different programs in the school, especially this," she said. "I love the kids. I've been in pediatrics since I came out of school. I love being creative like this."
UCF has been working with GoBabyGo creator, University of Delaware professor Cole Galloway, and his non-profit to offer the program to Central Florida. Dr. Jennifer Tucker is a pediatric specialist and physical therapy faculty member who oversees GoBabyGo at UCF.
Friday's build event was the first of the new school year and more are scheduled to take place throughout the year. Tucker said hosting the event at the UCF FAIRWINDS Alumni Center seemed like a perfect fit.
"In looking at having a space, a place that really represents us, it just seemed to make the most sense, particularly with the Orlando Health partnership, that we would showcase it at the alumni center at the heart of the university," Tucker said.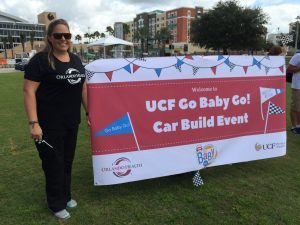 The recipients of the cars hailed from Orlando, Winter Garden, St. Cloud, Volusia, Daytona and Perry, Florida. The need is so high in in the Southeast that one family drove more than 450 miles from Bishop, Georgia, to be a part of the day.
Tucker said GoBabyGo has built approximately 40 cars since the program started at UCF in 2015, and she receives applications daily for children of all mobility levels.
For some children who are delayed in achieving mobility milestones, the cars give them a chance to go out and play until they develop their skills. For other children who will likely need wheelchairs in the future, the cars allow them to learn more about mobility and body movement without leg usage.
The volunteers and the children's families capped the day by cheering and waving black-and-white checkered flags as the children cruised down Memory Mall. It symbolized the teamwork Tucker has witnessed and experienced since taking on the GoBabyGo program.
"This has been fast moving and gathered momentum on its own and just really tapped into a need that exists in the community. We're excited to have the means to meet that need," Tucker said. "We think it's a great avenue for alumni (to get involved). You don't have to be a health care professional to help them. You can be a business major and come and help build a car."