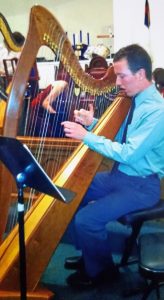 An art exhibit at the Lake County Museum of Art recently featured the talents of individuals on the autism spectrum. Spectral Evidence, which is in its fourth year, was made possible through a partnership between the museum and the UCF Center for Autism and Related Disabilities. The exhibit concluded its three-week run this past weekend.  
The exhibit included work by nine young artists in mediums such as digital graphics, drawings, photography and a musical recital.  
The exhibit is one of many events facilitated each year by UCF CARD. This particular collaboration was inspired by its workshop series, "See My Voice," which encourages self expression through art. 
"From digitally generated 'Fantasy,' to photography, to intricate satirical storytelling illustrations, students showed remarkable skill and variety – being centered on a core issue of autism — communication," says Gesa Barto, an autism disorders specialist at UCF CARD. "The strong expressiveness of the works was very well received by both, general public and the autism community." 
For more information about UCF CARD, visit https://cfl.ucf-card.org/. 
Click to enlarge the images below.