Comedian Howie Mandel, who has ADHD and OCD, won't forget the moment his diagnosis was publicly shared.
"I was on the Howard Stern Show about 20 years ago," Mandel recalls. "I told him, because we're friends, what I was dealing with and I thought we were in a commercial break and we weren't, and it kind of went out, and I thought, oh my gosh, now the world knows that I'm not mentally healthy," says Mandel.
Mandel believed his career to be over, but instead found himself immediately embraced by similar sufferers thankful to him for elevating the public perception of mental health. "I started getting this huge influx of mail and I realized that I'm not alone," says Mandel. "This is an issue that a lot of people deal with."
Mandel was one of five panelists who shared their lived experiences at a discussion held last month at the College of Health Professions and Sciences' (CHPS) Rehabilitation Innovation Center. The session, Neurodiversity: Strategies for Transitioning from Childhood to Adulthood, was attended by students enrolled in healthcare programs across the university.
Mandel joined the group by "beaming in" from Los Angeles via hologram machine, a state-of-the-art simulation tool which enables a speaker to appear life-sized and in real-time from anywhere in the world. The technology, which was first introduced in entertainment venues, has expanded into healthcare education at UCF and is used to broaden the variety of patients and experts students learn from.
Also joining Mandel as panelists were Clinical Associate Professor Jennifer Tucker and Associate Professor and Division Chair William Hanney of the Division of Physical Therapy, Associate Director Brian Stevenson and Simulation Technician Michael Dosczekalski with the Veterans Health Administration's SimLEARN and Clayton Stocker '17DPT, a neurological physical therapist at Orlando Health.
Each of the panelists discussed their personal experience with how differences in individual learning, processing and functioning can affect children and extend across their lifespan. They emphasized the importance of managing symptoms, understanding the challenges and benefits of neurodiversity, and how differences are found across the workforce and in highly successful people.
Neurodiversity, which is driven by both genetic and environmental factors, can result in variations in the human brain and cognition and impact sociability, learning, attention, mood and lead to other conditions like ADHD, OCD and dyslexia. Research shows an estimated 15-20% of the world's population exhibits some form of neurodivergence.
"Neurodiversity is a newer term that we are using in society to describe the variability or diversity that occurs across neurological systems," explains Tucker. "Historically, we tend to use language that this is the box for how you intend to learn. If you fit in this box, then you are typical. If you are outside this box, then you are anything but the typical learner. Now we are beginning to embrace this concept of neurodiversity — that there are several variations in how individuals learn, how they can process and how they function in society. And that, in many diagnoses, there's a lot of strengths associated with those different learning styles," says Tucker.
The host of America's Got Talent and Deal or No Deal, Mandel says what he has found most helpful is sharing. "You don't know who will give you help or be supportive," he says. "[People] need to take care of their mental health like they take care of their dental health," says Mandel. "If I show you an x-ray, you can see whether there's a fracture in a bone and they'll pay for you and support you to get that fixed. But there isn't an x-ray where you can show that I can't concentrate."
"The more we make mental health part of our normal discussion and out in the open that helps people at least go and seek health help," says Mandel. "I suffered much more than I'm suffering today for over 40 years because I was forced to, because I was afraid to go get help."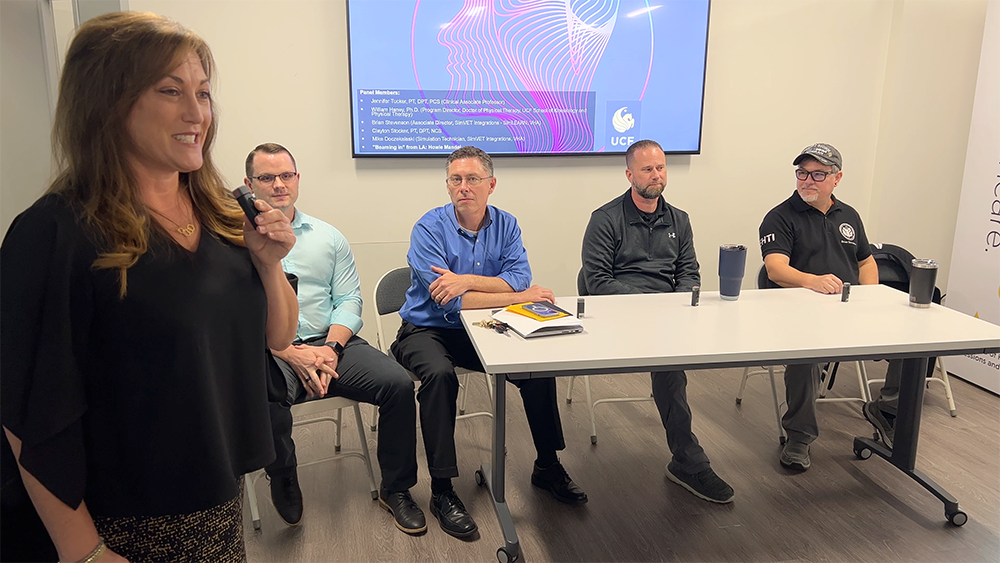 Hanney shared how he helped his son navigate schoolwork when he was diagnosed with ADHD in third grade.  He found that the learning strategies that worked for him as a child were not working for his son and initially struggled to appreciate and understand the challenges his son faced.
Hanney recalls the moment when it clicked for him. "[My son is] trying to do math and he couldn't do it. It wasn't because he didn't want to do it. He couldn't do it. It was like a light switch for me because I started to understand his challenges."
Together, they're finding new ways to navigate the learning differences and becoming stronger through it. "So many individuals that manage their neurodiversity have gone on to be successful in their lives, have learned to manage their symptoms and, in some cases, capitalize on the unique strengths that neurodiversity may offer," says Hanney.
Mackenzy Chavez, a physical therapy doctoral student who attended the session, aspires to work with children. "Just like everyone has their own personality, everyone has their different learning styles — and you have to get to know them," says Chavez. "It's a lot of trial and error — especially with children and the pediatric population. Things change every single day; every single minute —as they're growing in maturity and having new life experiences."
Holding interdisciplinary discussions like these are part of the College's continued work to partner with industry and the community to provide real-world and immersive instructional experiences that elevate how students learn.  Acquired in 2021, the hologram technology is among a suite of simulation tools that help better prepare the next generation of healthcare providers to serve patients and their communities. The technology helps bridge the gap when in-person interactions are not possible or cost-prohibitive and offers the ability to display live as well as pre-recorded persons.