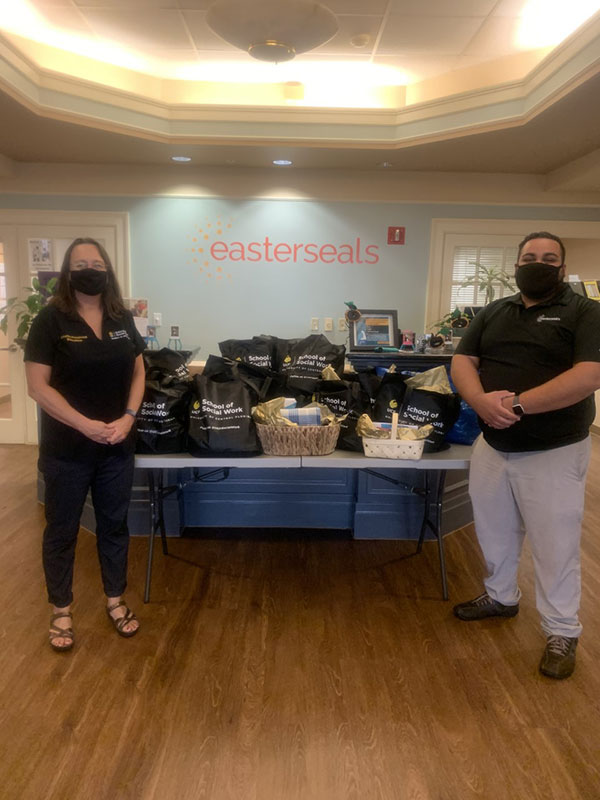 Service-learning in a digital classroom poses a significant challenge to the element of human interaction, especially for social workers. Though showing flexibility in a challenging situation is a hallmark of a social worker. UCF Social Work Professor Denise Gammonley's high-impact course SOW 4645: Social Service for the Elderly successfully showed that service learning, albeit digitally, can still have a substantial impact on supporting clients in need while maintaining that special human connection.
"Typically, students would work onsite with older adults at the adult day care center, Daybreak at Easter Seals, to develop their generalist practice skills by interacting with members and delivering an arts intervention," said Gammonley. She instead devised a new strategy that students could complete remotely to support self-efficacy among family caregivers of Daybreak members who are trying to cope with the limitations imposed by COVID-19. Students researched and developed health and wellness kits to effectively serve the caregiver's needs.
"Self-efficacy is supporting the belief that you are able to use your abilities to effectively complete a task. After analyzing all the information, I applied my research on self-care and caregiving to the concept of self-efficacy," said student Andrew Barajas, who compiled items (e.g., tea, stress balls, journals, and a list of exercise and meditation apps) with his group to deliver to the adult day care center.
"These materials promote self-efficacy and reflect the social work values that Gammonley taught us because they enable the caregiver to reflect and build on their strengths. Social work is about building up on strengths so that individuals, families, and communities are empowered," said Barajas.
Students in the class completed Zoom interviews with Easter Seals Daybreak program staff and remotely worked in student groups to research strategies. "Our remote service-learning promoted a learner-centered environment that allowed all of us to contribute our skills, knowledge and apply what each one of us believe to be more effective," said student Diana Richards.
Richards admits she had difficulty transitioning to remote learning at first but found positives from it. "It pushed me out of my comfort zone and made me realize that while working with a client we must be resourceful, creative and help that client where they are," she said.
Gammonley delivered the roughly 30 kits prepared by students to Daybreak at Easter Seals in Winter Park. While the intention of the project was to have a positive effect on caregivers, students said that they also benefited from the process. "It taught me the impact of service-learning because we were able to put what we learned into action," said Madison Kelleher, a student in the class. "This project helped build my own confidence and my own self-efficacy because I was able to assist caregivers despite challenges, like being remote or having a small budget," she said.
Jose Santana, center director at Easter Seals, mentioned that the health and wellness kits were a unique way to help caregivers, "Our center had to put restrictions on guest and volunteers due to the coronavirus precautionary measures.  Denise and her class found a solution that was phenomenal and would give back to our caregivers — the caregivers loved it," he said.
Gammonley says that students shined in their creativity and ability to connect with the caregivers virtually. Even though she was the one delivering the kits, she credits the students with providing these caregivers with skills they need now more than ever during these unprecedented times.
"That's what service learning is all about- using your knowledge and skills to make an impact on someone that fuels your desire to learn and do more," Gammonley said.