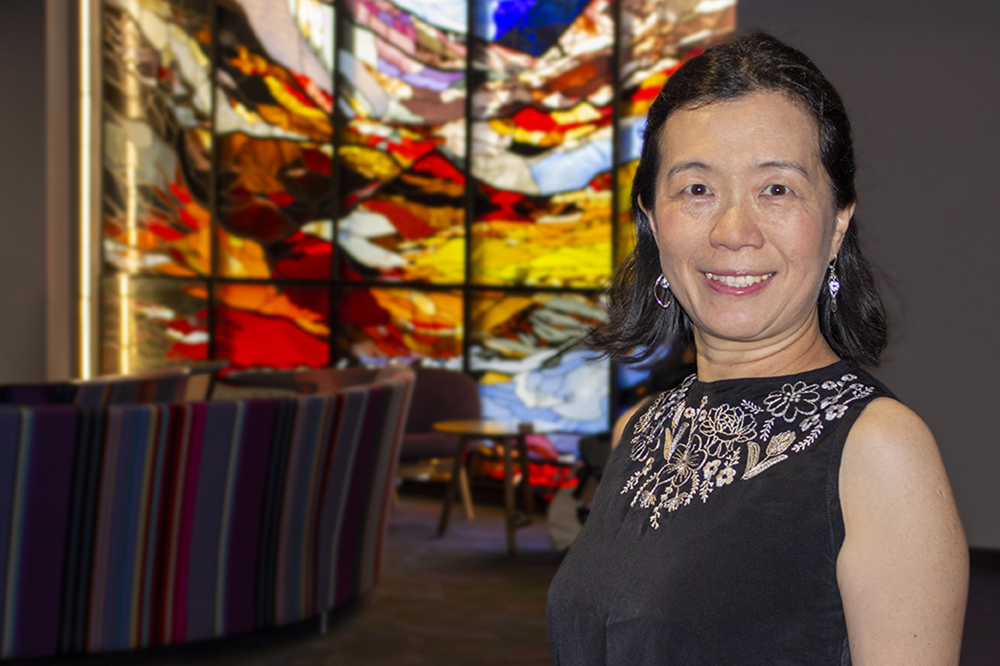 Assistant Professor Hsiu-Fen Lin joined the College of Health Professions and Sciences this fall in the School of Social Work and is a member of UCF's Violence Against Women (VAW) faculty cluster. A licensed clinical social worker in a global context for more than 25 years, Lin is actively involved in research surrounding intimate partner violence (IPV) and homicide, violence on immigrant women and children, economic and financial abuse, and economic empowerment.
Lin began her work in the field of social work in 1998 in Taiwan, the same year the country passed the Domestic Violence Prevention and Intervention Act and became the first Asian country to implement legal measures to protect victims. During her nine-year tenure at the Center for Domestic Violence and Sexual Assault Prevention and Intervention, she helped low-income families as well as women and children exposed to violence. It was there that she first began to see the connection between poor economic safety and IPV – a risk factor she believes is severely overlooked and has since become a focus of her research.
Lin came to the United States in 2013, earning a MSW and Ph.D. in social work from Rutgers University where she studied economic abuse within intimate partner violence. Abusers can prevent survivors from accessing funds, seeking job training or being employed, says Lin.
"When people hear 'abuse,' they assume physical violence and rarely consider financial or economic abuse," she says. "Economic abuse is difficult to talk about and is often overlooked." Lin is committed to promoting economic empowerment to lessen the negative effects of IPV.
Prior to joining the School of Social Work at UCF, Lin served as a post-doc scholar at Arizona State University (ASU), working with Jill Messing, a professor in the ASU School of Social Work and director of the Office of Gender-Based Violence. Messing was the recipient of four grants totaling $2.3 million for research on intimate partner homicide and gun violence. Lin used her skills to lead a transdisciplinary student research team, manage large-scale research operations including management and analysis of large datasets, and effectively communicate with research partners including faculty and community members – research she is continuing in her new role at UCF.
The research team is reviewing over 8,000 homicide victim case files from law enforcement, medical examiners and prosecutors across six states. The goal is to identify risk factors to prevent future homicide cases, and update the Danger Assessment tool, an instrument that assists professionals to assess the IPV victim's likelihood for being killed by their intimate partner.
Researchers are also interviewing the victims' next-of-kin to better understand the victims' relationship with their abuser, the family dynamics and details on the firearm ownership prior to the homicides. They endeavor to understand more about IPV-related homicides when IPV leads to the deaths of corollary victims including children, other family members, neighbors, and community members. Over the long-term, researchers will evaluate the intersection of domestic violence homicides and macro-level risk factors such as firearm regulations.
"It is very hard to see the lives lost, and we think many of these homicides are preventable," Lin says. "The work we do can help identify better risk assessment tools that can be used by both professionals and the IPV survivors themselves. Our goal is to develop better interventions and create strategies to save lives."
Lin and her team are working with professionals from a variety of disciplines, including psychology, criminal justice, nursing and public health. "It is a great experience for me to work with people from different backgrounds because it allows us to understand the issues more comprehensively," says Lin.
At UCF, Lin will be continuing her research in economic empowerment and plans to study intimate partner homicide specifically in Florida. She also wants to develop a financial social work course for undergraduate and graduate students so they can learn more about the risk factors and patterns associated with financial and economic abuse.
"Social work education doesn't fully prepare students to talk about money with clients," Lin says. "We can do a better job to initiate difficult conversations on finance and understanding the root of the problem – is it a lack of money, is it money management, is it an inability to find employment – so we can help to find solutions."
Lin says one of the main reasons she came to UCF was because of the VAW faculty cluster and its work underway. The VAW members span several disciplines and are dedicated to research guiding policymaking. "Despite our diverse research backgrounds, we all have the same understanding and the same goal that we want to achieve: to stop violence against women and terminate loss of life due to intimate partner violence," says Lin. "I am so inspired to be a part of the VAW cluster because for us, researchers, this is a life-changing opportunity."