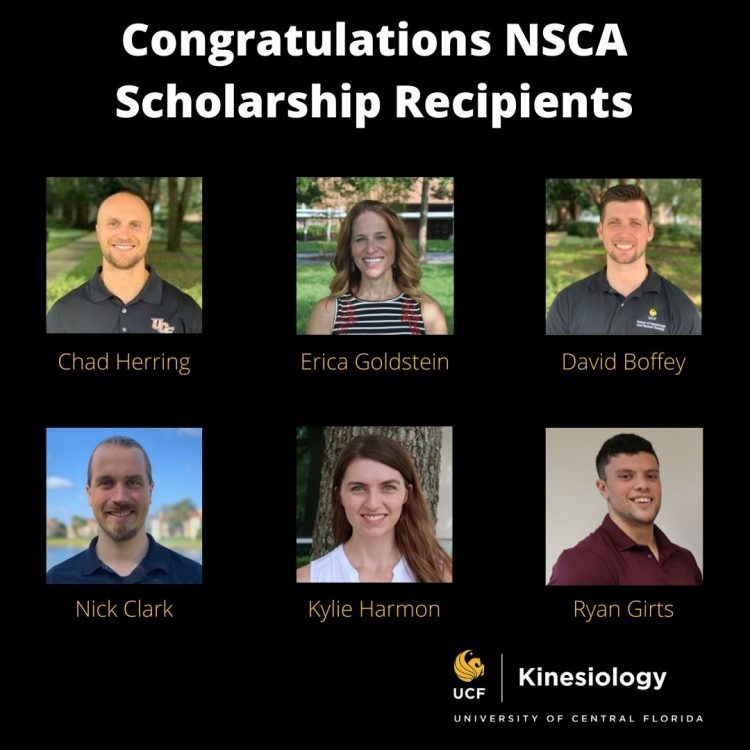 Six Ph.D. students in the Division of Kinesiology have been awarded scholarships from the National Strength and Conditioning Association.
David Boffry, Nick Clark, Kylie Harmon and Ryan Girts are recipients of the Challenge Scholarship, which is awarded to NSCA members seeking either an undergraduate or graduate degree in a strength and conditioning-related field.
Erica Goldstein is the recipient of the Women's Scholarship, which is designed to support those who identify as female, ages 17 and older, to enter into the field of strength and conditioning.
Chad Herring is the recipient of both the Challenge Scholarship and the Jerry Martin Memorial Scholarship.
The Jerry Martin Memorial Scholarship is designed for the specific purpose of providing tuition assistance to students planning careers as strength coaches, and majoring in a related field in remembrance of lifelong strength and conditioning coach Jerry Martin.
This award is presented to one recipient each year. Herring is the first UCF student to receive this award.
"I'm extremely honored and grateful to be the recipient of the Jerry Martin Memorial Scholarship this year," Herring said. "I hope that I can continue to move this field forward and motivate individuals to not only become better athletes, but better people."
All scholarship awards are for $2,000 and will go toward tuition for the next semester.
"We are extremely proud of our students. These awards reflect the high-quality of students in the program and we can't wait to see what they will achieve upon graduation," said Jeffrey Stout, director of the School of Kinesiology and Physical Therapy.