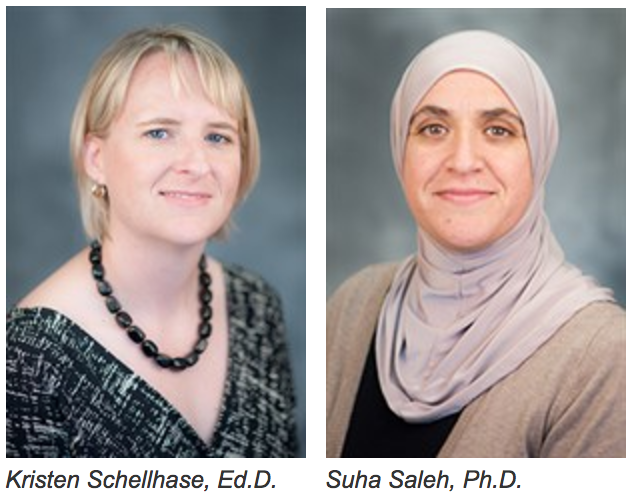 Kristen Schellhase, interim chair of the Department of Health Professions, has been appointed a Dean's Fellow for the 2017-18 academic year, announced Dean Michael Frumkin.
"Dr. Schellhase has done an extraordinary job as interim chair of the Department of Health Professions," Frumkin said. She'll transition from this part-time role into her role as fellow over the summer.
As a fellow, Schellhase will work with Frumkin and other administrators for approximately 15 to 20 hours a week. She'll increase her understanding of collegewide academic initiatives, student issues, strategic planning, budgeting and challenges in higher education by taking on special projects and activities related to operations. She'll also collaborate with colleagues in other academic and administrative offices across the campus.
Frumkin said he was equally pleased to announce that Suha Saleh, program director for the department's Health Sciences Program*, will serve as interim chair of the department for the coming academic year.
"Under Dr. Saleh's leadership, the Health Sciences Pre-Clinical Program has become the second largest undergraduate major in the university," he said.
As interim chair, Saleh will work with Patrick Pabian, program director for the Doctor of Physical Therapy Program, and Schellhase, also program director for the Athletic Training Program, to continue the department's growth and development. Saleh will continue to serve as director of the Health Sciences Program as well.
Frumkin said the college will begin a search for a permanent chair of the Department of Health Professions this summer, with a target start date in July 2018.
*The "Health Sciences Pre-Clinical Program" recently changed its name to "Health Sciences Program."