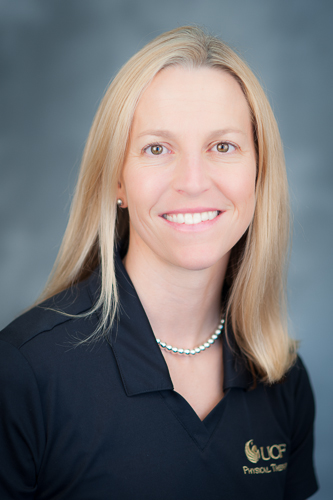 Carey Rothschild, a lecturer in the Doctor of Physical Therapy Program, received the Faculty Excellence in Mentoring Doctoral Students Award in the "Social Sciences, Humanities, Education, Business, Fine Arts and Health Sciences" category at UCF's 2016 Graduate Research Forum on April 5.
The award recognizes dedication and mentoring by faculty members who help guide their students through their academic and professional development. Awardees receive a check for $1,000 to be used for professional development.
"What makes this award especially satisfying is that it is the only university-wide award that originates with our graduates," wrote Sociology Professor Jana Jasinski, a member of the selection committee.
"It is heartwarming to read first-hand about all of the many fine things that you and our faculty are doing on behalf of our doctoral students," she added. "The committee agreed that UCF is fortunate to have so many excellent faculty mentors such as yourself."
Rothschild mentored a number physical therapy students this year who presented research posters at the forum, several of whom are pictured below. She said she was thrilled to find out that one of her students had nominated her for the award.