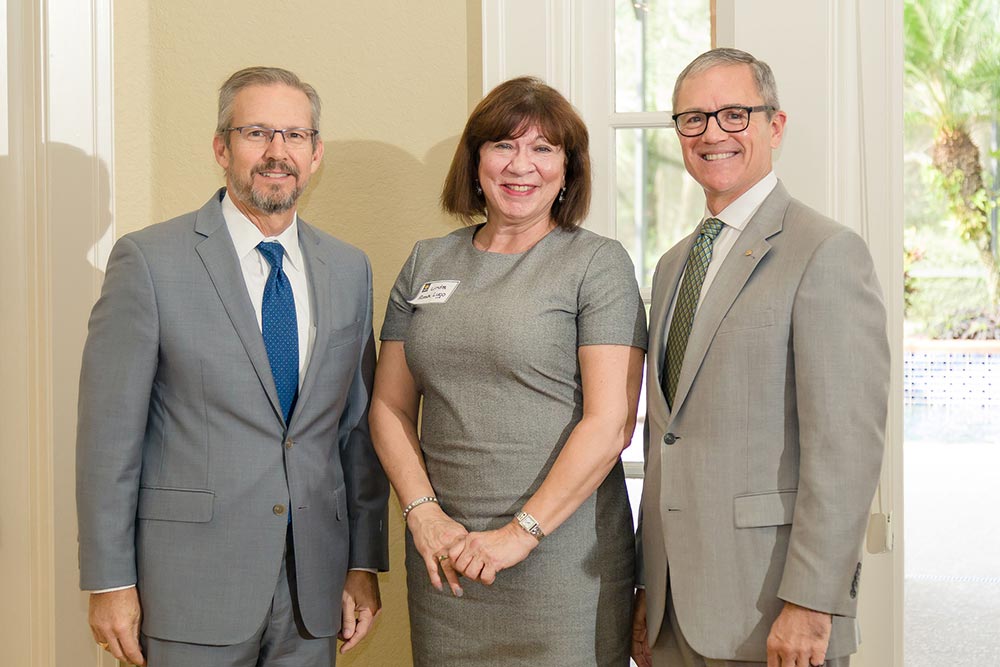 UCF Board of Trustees members and President Dale Whittaker recently honored Linda I. Rosa Lugo, associate professor of communication sciences and disorders, for her trailblazing work in developing clinical study abroad programs.
She also serves as interim assistant dean of faculty excellence and graduate and global affairs for the College of Health Professions and Sciences.
Rosa-Lugo has developed and led weeklong clinical study abroad programs in Puerto Rico, Brazil and Costa Rica for UCF students preparing to be speech-language pathologists.
"She is the only faculty member at present that has led/is leading 'clinical' study abroad programs," said Oliver McSurley, assistant director of UCF Global. "Dr. Rosa-Lugo's programs are indeed very unique in this capacity."
Each of the clinical study abroad programs she developed required an affiliation agreement between UCF and the partner university abroad. Finalizing these agreements took years in some cases and required tremendous perseverance. The agreements enabled UCF students to interact with patients in the foreign country, but only under the supervision of a UCF faculty member, namely Rosa-Lugo.
Rosa-Lugo led UCF's first clinical study abroad program, in Puerto Rico, in 2012. The first clinical study abroad program in Brazil was in 2017 and included clinical experience at the largest craniofacial treatment center in the world. In August 2018, she led UCF's first clinical study abroad program in Costa Rica.
"I want students to know what it's like to work in a clinical setting when you don't speak the language," said Rosa-Lugo, noting that just six percent of speech-language pathologists in the United States are bilingual.
Rosa-Lugo wants students to learn how other countries care for individuals with communication disorders. She also wants students to incorporate their understanding of other languages, cultures and healthcare systems into their own clinical practice.
To date, 16 UCF students have participated in clinical study abroad programs led by Rosa-Lugo. In 2019, she will once again lead the programs to Brazil and Costa Rica, so more students will benefit from these extraordinary educational opportunities.