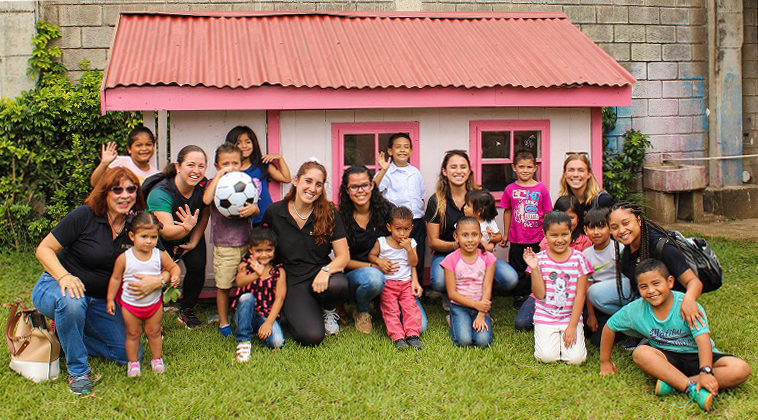 Five graduate students in the School of Communication Sciences and Disorders recently returned from a study-abroad trip to the Republic of Costa Rica during the break between summer classes and the fall semester.
They experienced extreme biodiversity in a tropical rain forest, hiked to an active volcano and enjoyed delicious native specialties, but this was a working trip for the students, who are master's candidates in the school.
Their advisor, Linda I. Rosa-Lugo, accompanied them for the week-long trip, which included classes with their Universidad Santa Paula counterparts at the Clínica Santa Paula, a visit to a nursing home and time in the university's clinic assessing clients there.
"The trip was life-changing for the students," said Rosa-Lugo, an associate professor and interim assistant dean in the College of Health Professions and Sciences. "They were exposed to the rich culture in Costa Rica, learned about their healthcare system and collaborated with other speech-language pathology students on case studies."
Veronica Castro, director of the international office at the Universidad Santa Paula, was instrumental in coordinating efforts in Costa Rica to ensure that the students had a wide variety of clinical experiences and a chance to attend cultural events with the leadership of USP.
"We could not have gone on this incredible trip without Veronica Castro," Rosa-Lugo said.
Also contributing to the program's ambitious agenda were USP speech-language faculty members Melissa Araya, Ana Agurto, Antonieta Barrantes and Carolina Solano.
The UCF students included Alexis Gedallovich, a former drama teacher who used to work in a special needs school in South Florida. It was there, she said, that she "fell in love with working with students with special needs," and learned that the voice work and communication skills she learned in drama could be applied to speech-language pathology.
Gedallovich, along with Paula Uribe, Ashley Welch, Stephany Vazquez and Mayumi Sembrano toured an orphanage where they learned that although the facility is clean, and the children are well cared for, there is a critical lack of speech-language pathology services available in the country.
"We met a person in the airport who was assisting his deaf friend," Gedallovich said. "The man told us that his friend could not communicate with us, not knowing that we were speech-language pathology students. We tried to tell him that there are ways for the deaf and hearing impaired to communicate, but he did not appear to believe us."
According to nationalgeographic.com, Costa Rica provides universal healthcare and basic dental care for its citizens and permanent residents, and it has some of the best healthcare in Central America. The country spends one-tenth as much per capita on healthcare as the United States.
With high-quality healthcare and a literacy rate of more than 97 percent, Costa Ricans enjoy a way of life known as pura vida.
The two words are translated to "pure life," but it's way more than that, Rosa-Lugo said. "Pura vida is said as a greeting or a goodbye."
The underlying philosophy of the two simple words is complex, but it could be one of the reasons why Costa Rica is a "Blue Zone," an area of the world where people commonly live past the age of 100 years.
Rosa-Lugo and her students experienced pura vida not only in the clinic, nursing home and orphanage, but also in a variety of community-based clinics, including a cleft lip and palate clinic. Wherever they went, everything was spotless, and people were joyous.
The group also had some downtime to explore the area and visited Irazú Volcano National Park and nearby butterfly gardens, where a butterfly landed on Rosa-Lugo's shoulder and did not want to leave.
UCF student Paula Uribe said visiting the nursing home was the favorite part of the trip. There she, her fellow UCF students and USP students Isis Ugalde, Marisol Martinez and Natalia Quiros learned from each other as they tested elderly patients.
"Although [agencies and other organizations] have very limited resources, they are making a huge impact in these elders' lives and the community," Uribe said. "It was nice to see a collaborative approach between occupational therapy, physical therapy and speech-language pathology to care for the patient, family and community. What was more heartbreaking was that some of the children and adults were homeless, had no families, lived in orphanages, and came from high poverty areas."
"This was an excellent opportunity for the students to receive clinical training in another language," said Rosa-Lugo. Her students had varying degrees of expertise in Spanish, but the language used for assessments and diagnoses is very "high level," she said. The five students also received clinically supervised hours in children and adult assessment during the trip.
"This trip made me more aware of what is going on in the world," said Gedallovich. "As a healthcare professional, it's my job to be an advocate for funding for other countries, and for services in our own country. We need to make ourselves accessible to as many countries as possible, to get out of our comfort zones, broaden our horizons and go to those communities where we are really needed."