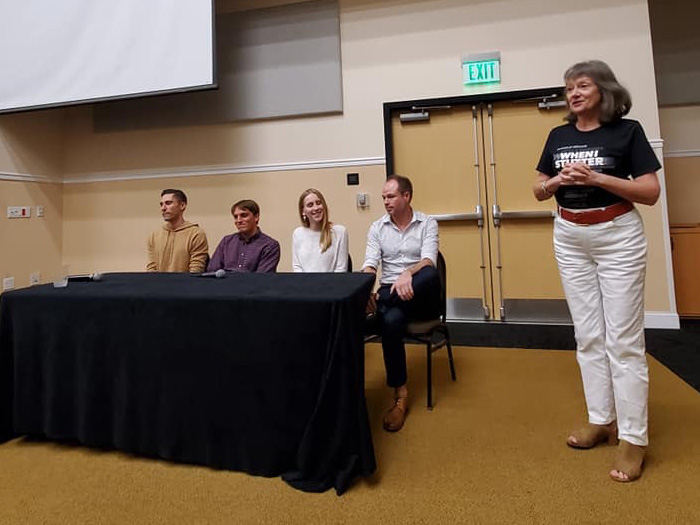 With nearly 68,000 students enrolled at UCF, there could be as many as 680 students who stutter, said Martine Vanryckeghem, a fluency disorders specialist and professor in the UCF School of Communication Sciences and Disorders. 
Nearly one percent of individuals in the world stutter, according to the National Stuttering Association.  
Vanryckeghem has dedicated her life's work to helping those with fluency disorders, like stuttering. Last year, Vanryckeghem received the Pegasus Professor award to recognize her excellence in teaching, research and service. Her multi-dimensional Behavior Assessment Battery for Children and Adults and KiddyCAT have been distributed worldwide to aide clinical therapists in diagnosing and treating preschool and school-age children as well as adults who stutter.  
Stuttering Support Group

Vanryckeghem is the co-chair of the Orlando Chapter of the National Stuttering Association, a support group for adults who stutter. The group meets 7 – 8:30 p.m. every second Wednesday in the Communication Disorders Clinic at UCF, located in Research Park.
Recently, Vanryckeghem, brought the documentary "When I Stutter" to UCF. The documentary is just one of the ways she hopes to bring awareness and acceptance to stuttering. 
Vanryckeghem first saw the documentary at the 2018 World Congress on Fluency Disorders in Hiroshima, Japan. It was there that she met the director, John Gomez. To help the film reach more people, she volunteered to write subtitles in Dutch which helped the film reach audiences in the Netherlands and Belgium. She continues to enlist the help of her colleagues in other countries for their assistance translating the film in their native language. 
"Our goal is to reach many students – and professors – about stuttering awareness," Vanryckeghem said. "Very often, professors don't know what to do if they have a person who stutters in their class. I tell them, you don't have to do anything extra for a person who stutters, but if you do have a person who stutters and they have to give a presentation, just allow them to present first." 
Allowing a student to present first greatly lessens the anxiety that can trigger or increase stuttering, Vanryckeghem said. 
Also, Vanryckeghem said that students who stutter may not self-disclose, but she recommends that students approach professors at the beginning of a semester, and tell them something along the lines of, "I know exactly what to say, but it doesn't always come out the way I want to say it." Again, a simple way to lessen anxiety.  
Through an increased understanding about the disorder, people will be less likely to judge those who stutter and create more inclusive environments. 
"While there is no cure for stuttering," Vanryckeghem said, "There is a lot we can do to help improve one's quality of life and to also improve the community's understanding of how best to support a person with a stutter."