Congratulations, Gjerome Mogol, for earning the UCF Athletic Training Program's Preceptor of the Month award for February 2019!
Mogol is a teacher and athletic trainer at Apopka High School. He earned his B.S. in health and athletic training from the University of North Florida and M.S. in sports sciences from Long Island University.
Praise for Mogol

It's easy to see why UCF athletic training student Stephanie Seda nominated Mogol for Preceptor of the Month. He has 19 years of athletic training experience and a passion for the profession, the athletes he cares for and the students he teaches. Students admire his professionalism and work ethic, as well as the way he makes the work environment so much fun.
"What did you learn today?" and "Would you have done something different today?" are questions Mogol poses to his athletic training students. The topic could be on any subject, and he gives students time to reflect on their answers. It's something Seda said she'll always remember when she thinks of working with Mogol. She also said she'll remember his encouragement to be open to new things, to love those around you and to never forget to take care of yourself.
According to his students, Mogol is a great mentor. He believes athletic trainers make a real difference in the lives of athletes on and off the field. He encourages everyone to be mindful of balancing professional and personal life, as well as to make time for the important things in life, because you never know when those things can change.
When it comes to teaching, Mogol makes athletic training students feel like they are his right hand. If a mistake is made, he encourages students to learn from it. And when students handle responsibilities correctly, no matter how big or small, Mogol is their biggest cheerleader.
Mogol has his students review competencies and choose which ones they want to do. He then makes sure they are confident to perform them correctly and thoroughly. He also spends time reviewing National Athletic Training Association (NATA) position statements with students and explains how procedures have changed since he first started in the profession.
"Whether it was cranial nerve assessment during a possible concussion evaluation or actively keeping parents included in the acute phases of injury, Mr. Mogol explained the process in a way that was clear and easy for students to understand," said Mozori "Mo" Louidor, a junior in the Athletic Training Program.
Louidor also shared that Mogol made him feel like a member of the staff right away. "I was always treated with respect and put in positions that allowed me to grow as an athletic training student," he said.
Did you know?
Mogol is the proud father of an adorable 13-month-old son named Remy!
What is a preceptor?
Teaching students to be athletic trainers takes many hours of classroom and lab time and many hours of hands-on education in the field. Preceptors are instructors in the field who reinforce what students learn in the classroom and demonstrate, in real-life scenarios, what it takes to be a vital and trusted part of a healthcare team.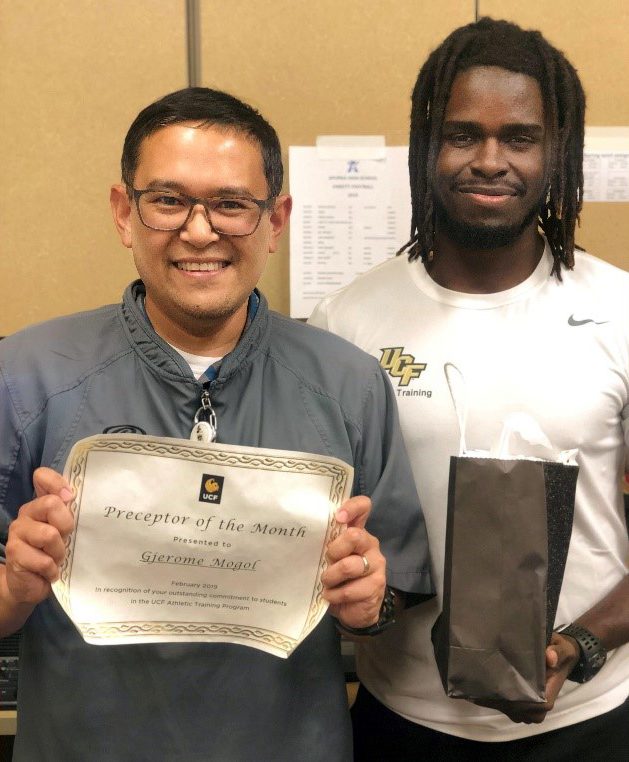 Mr. Mogol is the most genuine person. His passion for athletes is admirable and should be mirrored by all athletic trainers. He is a model athletic trainer. — Le Nguyen, UCF alumna and athletic trainer at Apopka High School