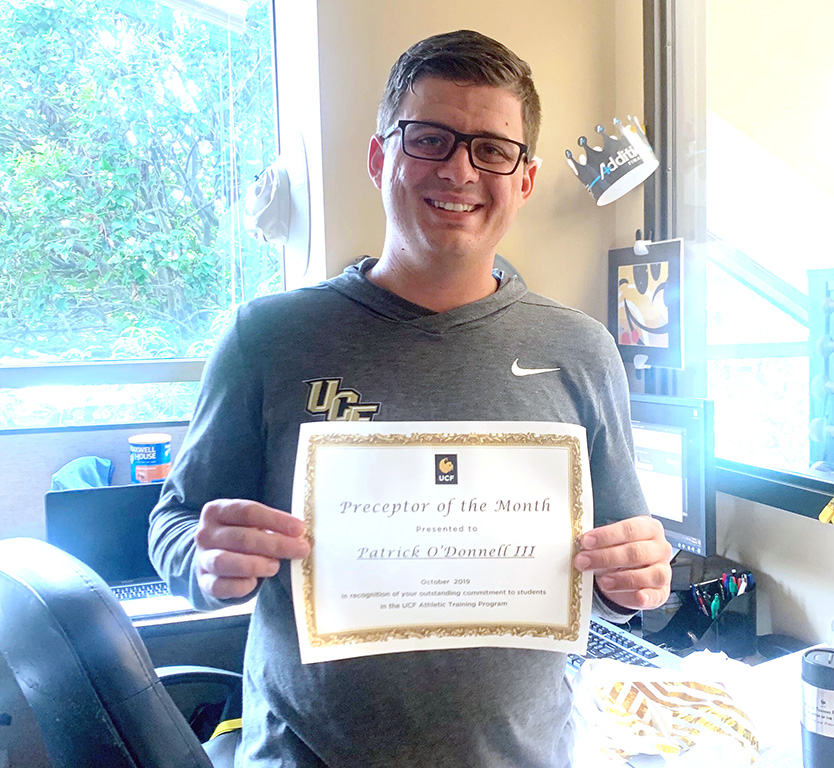 Patrick O'Donnell III, graduate assistant athletic trainer for UCF Athletics, receives great reviews from the students he teaches as a preceptor with the UCF Athletic Training Program. His love of athletic training shines through, as does his love for teaching, and he is eager to share everything he knows with the students.
O'Donnell graduated from Purdue University with a BS in athletic training. During that time, he had the opportunity to work as an intern with the NFL Indianapolis Colts for over a year. O'Donnell transferred to UCF where he is currently earning a master's degree in kinesiology while working with UCF Football and Women's Golf.
Athletic Trainer and Teacher
His standards are high, and the students know he will accept nothing less than their best work. When they are not learning hands-on with patients, O'Donnell remains in teacher mode. Every task is a learning opportunity; every mistake is a chance to learn and improve. Each week he challenges the students to learn with a "Topic of the Week" where they must research relevant articles and discuss their findings as a group.
O'Donnell is cognizant of the needs of the students and accommodates their busy workloads. He schedules time to work with them individually on learning and mastering competencies required for certification, and he makes sure they have time off for other responsibilities such as attending student organization functions.
According to senior student, Aaron Hill, "O'Donnell is always in a good mood and keeps the moral of the teams he works with high." Hill said that he loves the challenges he gets from O'Donnell because it will make him a better athletic trainer.
Did you know?
O'Donnell's friends call him P3. He is a huge fan of anything Disney related, and he loves jokes and riddles!
To be eligible for Preceptor of the Month preceptors must be nominated and meet certain requirements:
Be highly engaged and committed to the mission, vision and values of the athletic training profession.
Encourage students to be their best.
Make time to work with students on learning new skills and reviewing competencies.
Engage in continuing education to improve knowledge they can share with students.
Go above and beyond with mentoring students.
If you work with a deserving preceptor, please request a nomination form by emailing Atinfo@ucf.edu.