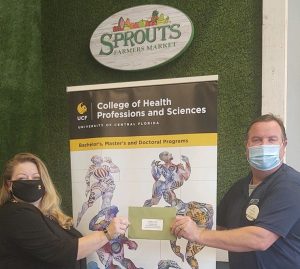 Jeanette Garcia, an assistant professor in the Department of Health Sciences, researches interventions that help children with autism live healthier lives. Her newest research investigates how to increase healthy habits like physical activity and healthy eating in this population.
"Young people with autism spectrum disorder are at higher risk for obesity, due to poor nutrition habits and lack of physical activity," Garcia said. "This research will build on past research that shows how to motivate them to adopt healthy behaviors."
To help address the issue, Garcia teamed up with UCF CARD, a center that serves families with children and adults on the autistic spectrum, to launch a virtual program geared at educating young adults and their parents during this time of COVID-19.  To support her efforts, the Sprouts Community Foundation recently awarded a $5,000 grant to help pay exercise instructors, fund student research assistants and purchases groceries to be sent to the participants' homes.
The virtual health promotion program includes nutrition education, cooking classes and physical activity sessions to increase knowledge, motivation and confidence to help develop lifelong healthy habits, Garcia said.
"Especially during this time of COVID-19, our families and adults need support," says Terri Daly, director of UCF CARD. "We are thrilled to be able to partner with Dr. Garcia to bring this beneficial program to our families."