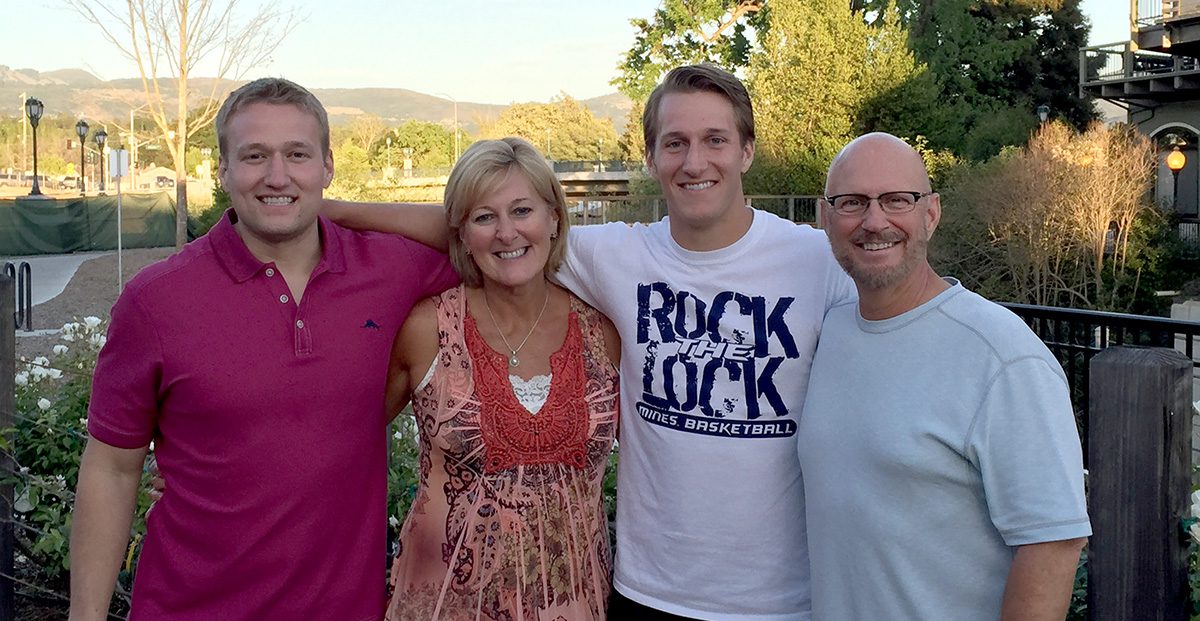 Who was Jeffrey D. Law?
With his right hand extended, the stranger with a dimpled smile would frequently introduce himself with the following salutation: "Jeffrey D. Law – the D is for Danger."
Law's quirky personality, thirst for knowledge and love of sports made him an excellent strength and conditioning coach.  He liked playing different sports in high school but his playing time was hindered by five shoulder surgeries in high school –  something that motivated him to design a shoulder strength program so that other athletes would not sustain this type of injury.
As a freshman at University of Northern Iowa, he talked his way into an upper level anatomy and physiology course. Soon after, he introduced himself to the coaches there and asked if he could help in any way with their team's conditioning. He wanted to learn everything he could so that he could be the best strength and conditioning coach possible.
The student schools the professor
Law was well on his way when he met Matt Stock, Director of UCF's Neuromuscular Plasticity Laboratory and Associate Professor in the Division of Physical Therapy. They met in July of 2012 at Texas Tech University, where Stock was a new assistant professor and Law had just started graduate school. Law was the first student that Stock ever advised as a professor.
"Jeff definitely kept me on my toes," Stock said. "He was constantly reading, and he knew his stuff. And if he didn't know something, he would ask me. If he wasn't satisfied with my answer, he would do some more reading and come back and educate me."
The two would debate topics in strength and conditioning, tell stories, and, ultimately, grew close.
Law's dedication to his craft was rewarded when he was chosen for a coveted football internship at the University of Mississippi for which more than 120 graduate students had applied. When Stock called to congratulate Law for succeeding against all odds, the always confident Law responded with one of his favorite Star Wars quotes: "Dr. Stock – Never tell me the odds."
The two stayed in touch after Law graduated and moved to California where he was hired as a strength and conditioning coach at Sacramento State University, a Division I school.  Law worked primarily with the football team, as well as directing men's and women's soccer and men's golf.
His parents were proud of each step he took to achieve his dreams.
"When Jeff was assigned to the women's soccer team at Sacramento State, he was told, 'Good luck – they've chased their last three strength coaches away," recalls Law's father, Ed Law.
But that didn't faze Law. When he first met with the women's team, he told them, "My goal isn't just to make you stronger.  My goal is to make you the best soccer player you can be."  The athletes responded to Law's enthusiasm and charisma with respect and hard work.  The women's soccer team went through that season without a major injury.
Law's legacy
In August 2015 Jeff Law died by suicide. The news shocked friends and family and made Stock reflect on his friend's life and how to best help students in crisis. He wants to be the kind of professor to whom students in crisis might gravitate.
"Not a day goes by that I don't think about Jeff. As a result of his passing I've become intimately more aware of the stressors that today's college students face," Stock said. "It's so important for students to reach out to our campus resources if they become overwhelmed."
Keep Smashin'
"The athletes just loved Jeff," said Stock. "I think of all the lives he impacted, and how his legacy will help inspire and assist more students."
Law loved the field of strength conditioning and learning about training.   Stock hopes the recipient of the Jeffrey D. Law Memorial Scholarship will have Law's passion for sports, and that the student will positively impact the lives of the athletes they work with.
The Law family appreciates all that Stock did to help encourage their son to be his best, and wanted to set up a scholarship at UCF to help students who have chosen this career path to succeed.
There is a sign over the door of the Sacramento State Women's Soccer team locker room that says 'Keep Smashin' – Coach Jeff Law. All of the players tap that sign on the way out in his honor.
It's exactly the sentiments Ed and Julie Law hopes their scholarship enables. "Make sure you live up to your potential.  Approach each day with enthusiasm. That is the best way to honor our son."
The Jeffrey D. Law Memorial Scholarship is open for applications during the Fall 2019 term until October 7, 2019. Students should complete the General Scholarship Application at academicworks.com to be considered.