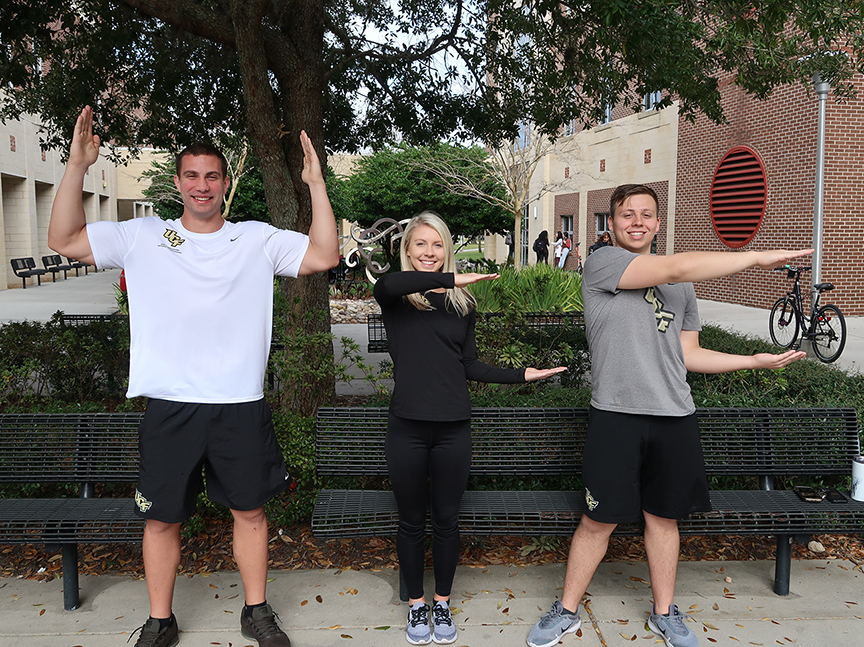 Winning the UCA National Championship this year was an experience the UCF cheerleading squad will never forget.
Four student-athletes of the winning team are students in the College of Health Professions and Sciences. Their experiences in cheerleading have not only shaped their career paths, but have also given them the skills need to succeed in their studies and beyond.
An Early Start
Hunter Burroughs was introduced to cheerleading at a young age, when his mother opened a cheerleading all-star gym in Tennessee. He's been a cheerleader since he was 7 and pursued his love for the sport from elementary school all the way through high school. He became the first athlete from his school to attend a Division 1 cheerleading school for college – the University of Central Florida.
"I loved coming to Florida," Burroughs said. "And the opportunities here at UCF were endless, especially for cheerleading."
Burroughs always had an interest in the medical field and initially planned to be a physical therapist. But after job shadowing in a local emergency room in Tennessee, he said he was drawn to the excitement and adrenaline rush of working in the E.R. and decided to pursue a degree in health sciences with the goal of one day becoming an emergency-room physician.
As a student athlete, Burroughs was familiar with the strain that sports can have on the human body and helped him further dedicated himself to helping others who struggle with aliments and pain.
Burroughs credits the rigor of the sport with helping to shape him into the health professional he wishes to be.
"Cheerleading has taught me how to communicate with other people," he said. "We always have to be 'on' when we interact with fans at the games. And those are skills that will help me connect with patients in the future."
Up-Close and Personal
For Vanessa Esposito, cheerleading opened the door for her to attend college.
Growing up in a single-parent household, she didn't think going to college was an option. When she started cheerleading in middle school, she had no concept that it could be her ticket to higher education. As she progressed in her skills, she realized that cheering was opening doors for her that she never thought possible.
Esposito is a senior pursuing a bachelor's degree in kinesiology, a major she chose after working with athletes. She plans to further her studies by also obtaining a master's degree in athletic training.
Balancing academics and athletics has helped her fine-tune her time-management skills, professionalism and confidence in working with different people. She has gained inside knowledge about the support that an athlete needs to perform their best— guidance on preventing injuries, and rehab after an injury— and sees her first-hand experience as an asset in her future career.
"There's more to this sport and lifestyle than what people see on the sidelines," Esposito said.
Changing the Narrative
Alec Holland has always been a powerhouse and excelled in many different sports. But cheerleading was a different experience for the senior sports and exercise science major, who tried out after being encouraged by fellow classmates in high school.
"Everyone who sees me asks if I play football," Holland said. "When I say 'No, I cheer,' I get a lot of surprised expressions."
Cheerleading is as tough as many other sports, said Holland. Like other sports, it requires a lot of strength, technique and skill.
"Some of our guys on the team are beating some of the guys on the football team in terms of strength," he said. "We got a couple guys who are squatting more than some of the football players."
Holland originally planned to go to firefighter school, but changed plans and decided to go to college after being recruited by Linda Gooch, the UCF cheerleading coach. His career goals include working as a coach or a personal trainer.
This was Holland's second year competing at nationals. Just like any competition, he wanted his team to win, but had no idea what to expect.
"I was getting chills when they announced the winner," he said. "It was something that I will remember forever."
Life-Changing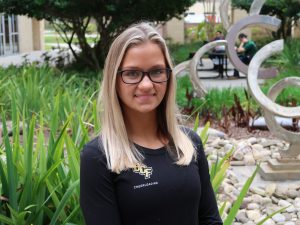 Emily Lublink was looking for a change when she came across cheerleading.
Lublink started gymnastics at the age of 5, but by the time she was 12, she was burned out from the injuries and extreme toll on her body. She tried out for cheerleading as an alternative activity and found herself more motivated and interested in the sport.
"I liked the aspect of being a part of a team instead of performing by myself," she said. "It was like having my own little family."
Performing with the cheerleading team, especially at the collegiate level, has helped Lublink grow more comfortable and confident in expressing her outgoing and fun-loving personality. But it has also helped the sophomore pursue a degree in health sciences, pre-clinical track and define her career aspirations to become a physician and specialize in either sports medicine or pediatric orthopedics.
"I want to be a doctor who really listens to athletes, because athletes know their bodies," she said. "And I want to put them on the road to success."
During competition season, Lublink and her teammates push themselves to the edge—maintaining strict practice schedules, making sure they keep their bodies properly nourished and hydrated, working out, and still keeping their grades up.
All of these factors made winning the championship so much more rewarding to the team, Lublink said. And this victory has set Lublink and her teammates up to be victorious in their future careers.