The UCF community remembered Kailyn Jones today at the Eternal Knights Memorial Service in the Student Union.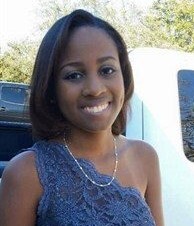 Before her death, Kailyn Jones was on the path to becoming a second-generation UCF alumna. She wanted to help people, especially children, as a physical therapist someday.
Although her own dream will tragically remain unrealized, two other students will have help achieving theirs thanks to a scholarship established in Jones' name.
"Kailyn was such a good person. She loved to do good. I think she would be absolutely honored to do this for someone else," said Ricardo San Jose, Kailyn's uncle, a UCF alumnus and a current student in UCF's family nurse practitioner program. "She saved a couple lives with her organ donation. Her heart is still beating in another right now."
Jones was killed in a car accident on Jun. 12, 2016 — the same date as the Pulse nightclub shooting. She was on her way home from babysitting family members at her grandparents' house when another car drove into on-coming traffic.
According to the Orlando Sentinel, the driver hit a concrete barrier near a traffic circle at Maitland Summit Boulevard and Pembrook Drive, flipped and landed on top of Jones' Honda Civic, records show.
San Jose, who works as an emergency room nurse, awoke early the next morning to find at least a dozen missed calls from his sister Lillian San Jose, Kailyn's stepmother.
San Jose's partner, Chris Blackwell [Ph.D. in public affairs '05], who is an associate professor at UCF, had known Kailyn for seven years and was as heartbroken as the rest of her family.
"I've worked in the ER, trauma, I've seen everything. But when it happens to you, there's nothing that can prepare you for that," he said. "It's this instant sense of loss."
At her funeral everyone wore purple for lupus awareness, a condition she was diagnosed with. Person after person spoke about Jones' impact on their life and what a light she was to them. Blackwell felt compelled to do something.
When it was mentioned in her eulogy that she was going to join fellow family members as an alumna of UCF, Blackwell said the idea to do a scholarship clicked for him. He made a $1,000 donation and his family's foundation, the Gary L. Blackwell Family Foundation, also made a $1,000 donation. These funds were used to support two student scholarships during the spring semester.
"I thought it would be a nice honor for her family to create a scholarship. Not only because it's their alma mater, but maybe it would give them some comfort to see that somebody is pursing the same steps that their daughter would have pursued, and will have a somewhat easier way to do that," Blackwell said.
On April 4, Jessica Recio, a nursing student who was awarded one of the scholarships, met Jones' parents at the College of Nursing's annual scholarship luncheon where students are invited to meet their donors for the first time. Blackwell and San Jose felt it was appropriate for Jones' parents to attend in their place.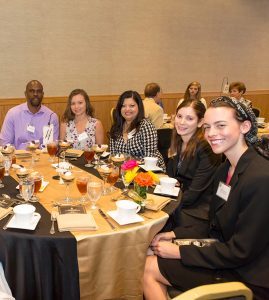 Recio is a part-time graduate student in the middle of her second semester in UCF's family nurse practitioner program. She has worked full time as a nurse at Orlando Regional Medical Center for the last year. She hopes to pursue a career in pediatrics after she graduates in 2019.
Recio said when she first applied for the scholarship, she wasn't aware of the meaning behind it but has learned more about Jones over the last few months.
"It makes me sad but at the same time I'm really honored. I hope that I can make their family happy and proud," Recio said. "I still have student loans from getting my nursing degree in the first place, so I am grateful to have help with this degree."
Cami Osier, a physical therapy student and the other scholarship recipient, earned her bachelor's degree in sports and exercise science as a Burnett Honors Student in 2015. She is currently pursuing a doctorate at UCF and hopes to one day become a pediatric physical therapist, just like Jones.
Jones will be one of the 18 students whose lives will be honored on April 11 at the Eternal Knights Memorial Service, an annual day of remembrance for the UCF community, family and friends for the lives of those lost in the past 12 months.
San Jose and Blackwell both said that Jones was a connector for their family and her friends, and they acknowledged she is still finding ways to do that, even after her death.
"She could walk into a room and just brighten everyone's life. Full of humor, could make the grumpiest person laugh," her uncle said. "It's still difficult knowing that she's gone. And it always will be I think. I think our family is dealing with it in healthy ways, and she would be proud of us."