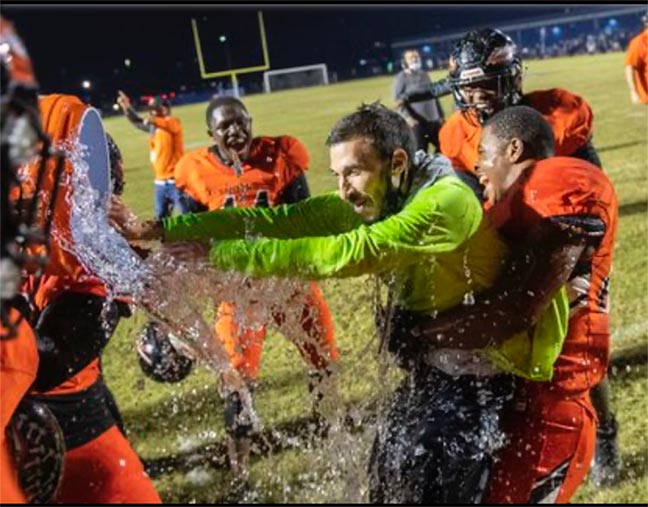 Eric Lodge '11, who graduated from the kinesiology program in the Sport and Athletic Coaching track, was recently named the overall 2020 Florida Dairy Farmers Football Coach-of-the-Year. It is the highest honor bestowed upon Florida high school coaches and has been compared to the high school version of the Heisman Trophy.
As head coach, Lodge led his varsity football team at Seminole High School to a 12-0 record this year. The team holds an impressive 52-6 record over the past five years.
Seminole's junior varsity and freshman football teams also had undefeated seasons last year, making the entire football program undefeated for the first time in the school's 118-year history, Lodge says.
"My love of the game came as a child growing up in Okeechobee," Lodge says. "Playing football with my dad and mom. And when I got to high school, we only carried 27-30 guys on the team. It was very special to be a part of that small team."
Even though Okeechobee is a small town, Lodge learned some of the biggest lessons in his football playbook there.
"My coaches, those were the guys I looked up to on a daily basis," Lodge says. "I kind of took notes from them on how to be a man. That drove me to pursue coaching, and to be able to be that kind of role model for someone else was really a draw for me."
As an 8A school, Seminole High School is ranked among the largest by student enrollment. It's also only the second high school where Lodge has coached since graduating UCF. After graduation, he was a defensive coordinator at Orlando University HS, the school where he also did his practicum while at UCF.
During that practicum, he interned under Don Stark '99 '06, who then went on to the head coaching position at Seminole. Lodge soon followed his mentor as his defensive coordinator. Lodge was promoted to head coach last year after Stark took a position at a high school in Georgia.
Jeff Duke, an associate lecturer in the School of Kinesiology, has kept up with Lodge, a former student of his, over the years.
"The best coaches are those who understand that call early on, and Eric is definitely one of those," Duke says. "He is a great young man who really wanted to coach and went through his courses well and did his practicum well."
Duke says that the popularity and success of any high school's football team is directly tied to its coach.
"Everyone wants to play for a winning team, and it all starts with the coach," Duke says.
Nearly 200 students came out for football tryouts last year, Lodge says. And true to his philosophy about the sport, he doesn't cut anyone from the team.
"Football is the greatest microcosm of life," Lodge says. "You get what you deserve, if you work hard on the field. You gotta show up and give good effort and if you do, it works out for you in life – and on the field."
Double the fun: Eric Lodge, along with wife, Catherine, are the proud parents of twins Ava and Mia.
Lodge has not only earned the respect from his team, but also from the Sanford community. A recent donation to the team helped him accomplish a major goal.
"We had someone donate $30,000 last year to renovate our weight room," Lodge says. To help offset some of the expenses and maximize the impact of the gift, Lodge and his coaching staff  got to work, cleaning, pressure washing and removing old flooring.
"Removing old, dirty flooring doesn't exactly correlate to running a good post route for an outside receiver," Duke says. "But coaches have so much more that they have to do in order to create a team and an atmosphere."
Lodge echoes the sentiments and says some of the most important lessons with his players happen off the field.
"Unfortunately, tragedy in our program is nothing new," Lodge says.
Over the past several years, the team has lost several of its members, leaving not only the young players – but also Lodge and his coaching staff – struggling to find meaning.
"When things happen like this, it binds them together and rallies them," Lodge says. "There is not one right way to handle this. You  just have to be there for them."
In those quiet times, after the cleats are put away, and they have outgrown their jerseys, Lodge hopes those larger lessons of teamwork will sustain them.
"It is about winning championships, but can you also coach beyond? Eric has that higher calling," says Duke.
"I don't just want to have my players for four years," Lodge says. "I try to build a relationship with my guys. I want them all to know that when they leave here, that they can always call Coach Lodge."