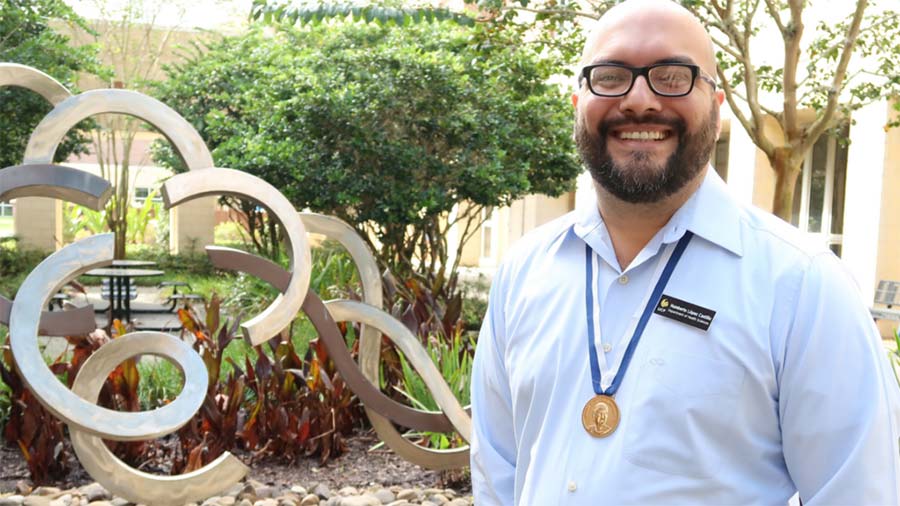 Recently, Humberto López Castillo, an assistant professor in the Department of Health Sciences, received the Order of Paula Solís de Huerta, the highest award granted by the University of Panama's Azuero Regional Center. The award is given to academicians, politicians and diplomats who contribute to research, teaching and service to the campus and to the Azuero region.
Born in Panama, López Castillo will take his students there next summer for a study abroad trip that will allow students to apply skills attained in their research methodology courses in a global setting. Students will develop and implement a community health assessment; collect data and create an analysis plan; present and disseminate results, and draft potential solutions to the issues found in Azuero, such as childhood obesity.
López Castillo recently joined UCF from the University of South Florida, and prior to that was a physician in the Azuero Peninsula, an agricultural region of Panama.
He received his medical degree in Panama and completed a residency program in pediatrics, after which he spent much of his time there working in the Azuero region, not only as a physician but also as a researcher. A trained pediatrician, he was alarmed at the skyrocketing childhood obesity rates in the area.
A recent shift in the area from agriculture to urbanization has brought with it shifting cultural trends; López Castillo noted that it is not uncommon for 6-month-old babies to have soda and other sugared drinks in their bottles rather than milk.
When he became aware of this health behavior, he wanted to explore barriers that new mothers might have to breastfeeding.  In one research project, 40 mothers were interviewed to determine their level of confidence with breastfeeding and discovered that most had only received information about breastfeeding right after birth.
"Most hospitals in the Azuero region are trying to become part of the Baby Friendly Hospital Initiative, which aims at promoting breastfeeding," López Castillo said. But even though the countryside is a very poor area and breastfeeding is free, López Castillo said women appear to need help in seeing that the free source of food from the mother is also the better choice for the health and development of their baby.
López Castillo has focused much of his research on the people who live in his hometown of Azuero, which is on the Pacific Ocean side of Panama. Within this population he has conducted numerous health-based research studies, including people affected by HIV.
In the UCF Department of Health Sciences, there are two tracks: pre-clinical and health promotion. With his dual background as a clinician and a researcher, he is positioned to give his students a perspective on each – or, as he says, "The best of both worlds."
"I am so excited to show them the countryside of Panama," he said. "People are very welcoming, and their healthcare system is easy to access."
López Castillo hopes his students come away from their community health assessments learning not only how to conduct interviews and do resource mapping, but also to determine how all the components fit together in a big picture. "I want them to have as much passion about my hometown and its healthcare issues as I do."