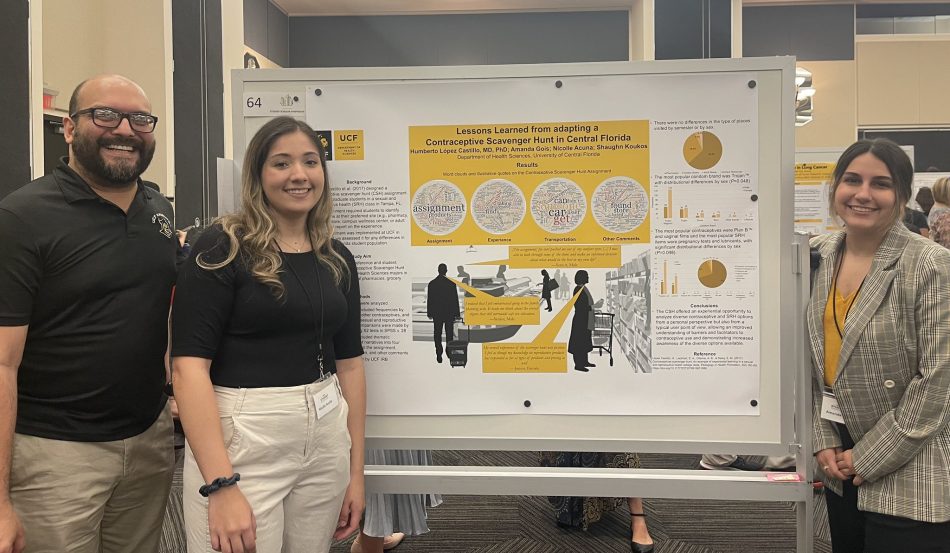 Health Sciences students had a strong presence at the Student Scholar Symposium hosted as part of Research Week.  Twenty poster presentations were presented by about 34 Health Sciences undergraduate students mentored by six Health Sciences faculty.
Health Sciences' Student Posters
Item Preference and Student Experience on a Contraceptive Scavenger Hunt Assignment: A Mixed-Methods Assessment.
HS Students: Nicolle Acuna, Amanda Gois
Faculty Mentor: Humberto López Castillo
Uterine Fibroid Prevalence and Health Care Disparities by County: Florida 2010-2019
HS Student: Saarah Sherifi
Faculty Mentors: Humberto López Castillo and Cassie Odahowski
Trajectories and Predictors of Health-Related Quality of Life in Older Breast Cancer Survivors
HS Student: Sushantti Repush
Faculty Mentor: Eunkyung Muriel Lee
Obesity and Weight Gain in Testicular Cancer Survivors: A Narrative Review
HS Students: Andre Naguib, Garrett Welch, Karina Castro
Faculty Mentor: Michael Rovito
The Association Between Excessive Alcohol Consumption and Oral Cancer Incidence Rate In Florida Adults
HS Student: David Li
Faculty Mentor: Eunkyung Muriel Lee
Racial Disparities and Quality of Life of Lung Cancer Patients in the United States: A Summary of the Literature
HS Student: Alina Wise
Faculty Mentor: Cassie Odahowski
Mindfulness Interventions for Testicular Cancer Patients
HS Students: Rama Abu Zanet, Peter Sagorski, Mostafa Diab
Faculty Mentor: Michael Rovito
Addressing Testicular Cancer Through a Health Equity Lens
HS Students: Alexie Alcantara, Sydney Martinez, Carl Russell
Faculty Mentor: Michael Rovito
Evaluating efficacy of cryotherapy in MS symptom alleviation in 30-50 year-old women in Central Florida
HS Students: Ethan Molina, Jaden LeGate, Harold Silva, Travis Steele, and Gabrielle Mejia
Faculty Mentor: Michael Rovito
Attitude Towards Sun Exposure Differences in Adolescents Diagnosed and Treated for Melanoma
HS Students: Morgan Welch, Sarah Duffy, and Edward Agocs
Faculty Mentor: Michael Rovito
Young Adult Maternal Health Literacy and Congenital Abnormalities in Newborns: A Case-Control Study Proposal
HS Student: Alesia Lokshina
Faculty Mentor: Michael Rovito
Adherence to Healthy Dietary Recommendations and Breast Cancer-Specific Outcomes in Breast Cancer Survivors: Meta Analysis
HS Student: Eric Han
Faculty Mentor: Eunkyung Muriel Lee
The Demographic, Behavioral, and Clinical Factors Associated with the Quality of Life of Cancer Survivors
HS Student: Odette Chirinos
Faculty Mentor: Eunkyung Muriel Lee
Calendula and Its Effect on Acute Radiation Dermatitis Prevention and Treatment Among Cancer Patients: A Systematic Review and Meta-Analysis
HS Student: Marjona Normuminova
Faculty Mentor: Eunkyung Muriel Lee
Hands Out for (NIC)U
Health Sciences Student: Emily Somma
Faculty Mentor: Danielle Webster
The Impact of Sickle Cell Disease on Gingival Bleeding and Oral Health of Adults
HS Student: Natalie Roa
Faculty Mentor: Ali Amirkhosravi
The Effects of Instructed Multi-Sensory Education on Progressive Myopia In Children Ages 3-6
HS Students: Janally Hernandez, Emilyn Stafford, Naissa Delva
Faculty Mentor: Keith Brazendale
Can Being Twins Pull Your Heart Strings? The Outcome of Heart Defects Among Twin Pregnancies Based on Serum hCG Levels
HS Student: Angeline Belnavis
Faculty Mentor: Michael Rovito
A Cross-Sectional Analysis of Testicular Cancer Symptom Recognition and Stage of Diagnosis HS Students: Sydney Martinez, Rama Abu Zanet
Faculty Mentor: Michael Rovito
Identifying the Level of Awareness Regarding the Oral Manifestations Associated with Minor Type Thalassemia in Iranian Adult Population
Biology Major: Tara Arzhangi
Faculty Mentor: Ali Amirkhosravi
Stress, Coping, and Disease Awareness Association with Metabolic Disease Risk: A Longitudinal Cohort Study
HS Student: Chelsea Anestal
Faculty Mentor: Keith Brazendale