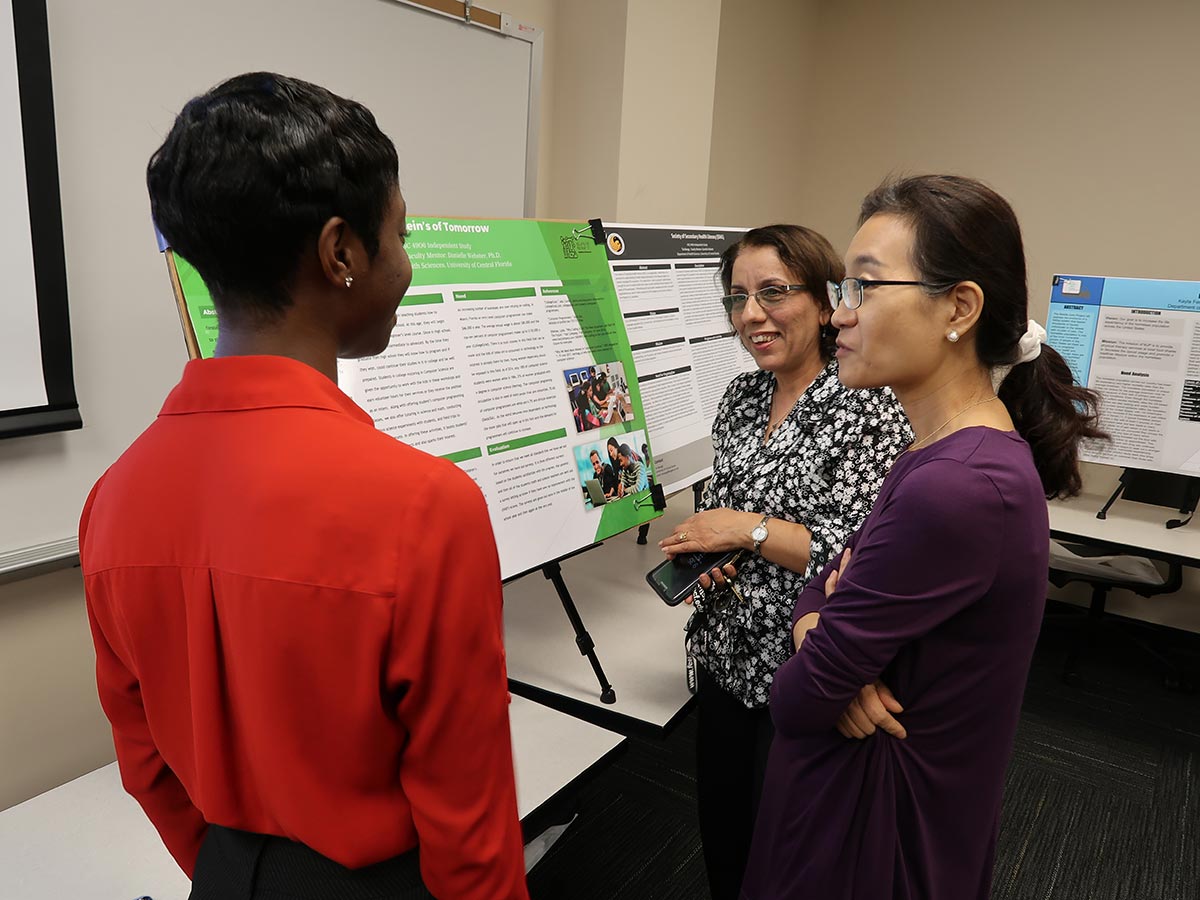 The Department of Health Sciences works tirelessly to ensure that its 4,000 undergraduate students are actively engaged in their education at UCF.
"We are really emphasizing integrative learning in our program," said Suha Saleh, program director and interim department chair, adding that avenues such as internships, research and health outreach programs are available to students.
In particular, faculty members strongly encourage students to participate in research.
It is also a high priority when recruiting new faculty members to the department, said Saleh, who encourages her faculty to cultivate research mentorships with their students.
A Growing Interest
Assistant Professor Michael Rovito says that, over the years, interest in conducting undergraduate research has increased among students as they learn the importance of research and broaden their understanding of how to conduct it.
"Initially, our students think that research is … sitting in a lab with petri dishes," he said. "But when they start doing research in our classes, they see how we can translate it into population and community research."
Rovito mentors several students each year on topics such as men's health and behavioral health. He works both to foster genuine interest in research and impart the skills needed to engage in self-directed projects.
During her two years at UCF, Eunkyung "Muriel" Lee, an assistant professor in the department, also has seen a thirst for knowledge and interest in research among students.
"I had some students reach out to me before I actually began teaching here," she said.

Stronger Skill Set
Senior Chandler Shiley began doing research with Rovito after transferring to UCF. One of his long-term goals is to publish his findings in a professional journal.
Shiley has sharpened multiple skills while conducting research on men's health, sexual health and athletics. These skills include time-management, organization, critical thinking, problem solving, professional networking and the ability to decipher research literature.
"Any profession you go into will require you to be able to understand the literature being published in your field," Shiley said. "Over time, it's really going to help you and give you an advantage in the long-run."
Shiley plans to apply for the Doctor of Physical Therapy Program at UCF and believes that his experience in research as an undergraduate student will strengthen his application.
"UCF's physical therapy program has a very strong research background," he said. "Having that research background would give me a great opportunity in preparing for the program."
One of the greatest benefits for Shiley and other students is the ability to cultivate long-term relationships with professors and faculty members that extend beyond the classroom.
"Moving away from that student-professor relationship to more of a colleague-to-colleague relationship, you get to know the professor on a more personal level and they get to know you better," Shiley said.
Multiple Benefits
Many of the professor-student relationships formed lead to better preparation for graduate school and the career field, opportunities to present research at conferences and symposiums, and publication in professional articles and journals.
Last spring, two groups of students under Lee's mentorship presented their research at the Showcase of Undergraduate Research Excellence. One student had graduated in December and was working full-time, but came to campus every Wednesday night after work to complete the research she began with her group and Lee the previous semester.
"The students are seriously looking at and preparing for their futures," Lee said. "Graduate and medical schools are now looking for students who already have experience in conducting research. The students feel they need the experience to go on to medical school."
Students comment that conducting research provides them a chance to apply classroom knowledge in real-world situations, Lee said.
"They told me that what they learned in class comes together for them when doing their research," she said.
"The feedback we get back from the students is telling us that we are on the right track, we are doing the right thing," Rovito added. "It's really encouraging to get emails and feedback from the students we mentored over the years."