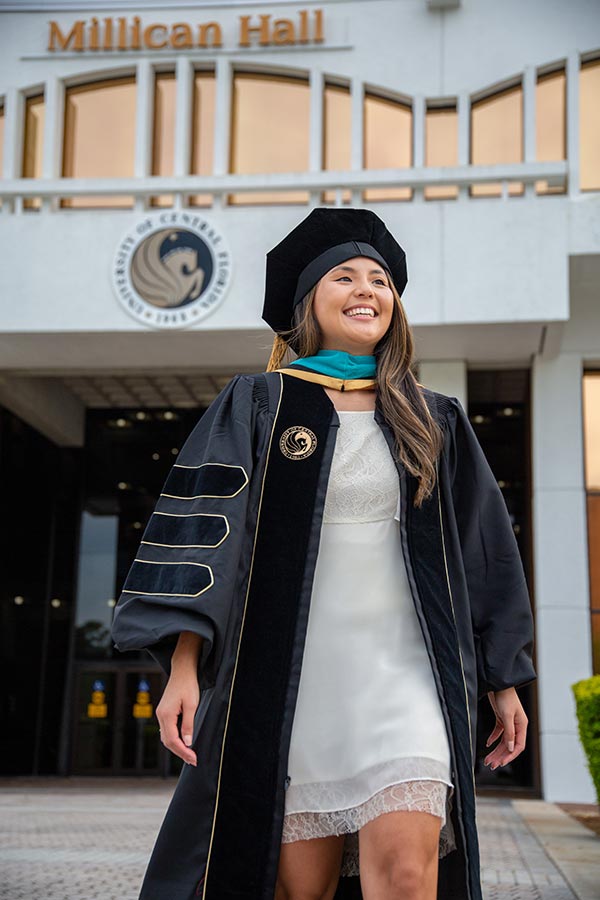 Meet Mariah Bush. This member of the Class of 2023 graduates from the Doctor of Physical Therapy program which is designed to prepare entry-level therapists to practice in a variety of clinical settings. For Bush, pediatrics is the chosen path. This driven and dedicated student has a passion for helping kids thrive and will start the next chapter of her professional journey in a pediatric physical therapy residency at a children's hospital.
Mariah Bush
Hometown: Pensacola, Fla
Degree: Doctor of Physical Therapy
What will you be doing after graduation?
I will be starting a year-long pediatric physical therapy residency with the University of Miami and Nicklaus Children's Hospital to take a deeper dive into didactic curriculum and clinical practice within the pediatric specialty.
What are your long-term career plans?
My long-term career plans are to utilize the field of physical therapy to enhance the quality of life in my pediatric patients and make positive impacts on the lives of their caregivers and loved ones.
What accomplishment from your time at UCF are you most proud of?
I am proud to complete my three-year DPT journey alongside my colleagues despite the challenges that we faced beginning our most rigorous academic endeavor in the midst of the COVID-19 pandemic. Unprecedented challenges require unprecedented strength, and I am proud to be proof of the dedication, resiliency, and passion that our UCF DPT program has for creating strong physical therapists in the face of adversity.
What did you love the most about your time at UCF?
In my time at UCF, I loved feeling connected to Knight Nation at football games in the Bounce House. Although I was in a bubble being part of a small cohort in the same building every day as a DPT student, attending football tailgates and games helped me feel connected to fellow students and showed me what it means to be a UCF Knight.
What was your favorite class, professor, or experience at CHPS and why?
My favorite experience within CHPS was being able to be a part of pediatric playgroups for children with complex communication and motor needs at the Innovation Center. Through utilizing our UCF campus resources, equipment, and the expertise of CHPS faculty, we were able to provide joyful and meaningful experience to members of our community. I loved being a positive light to these children and families through my connection to UCF.