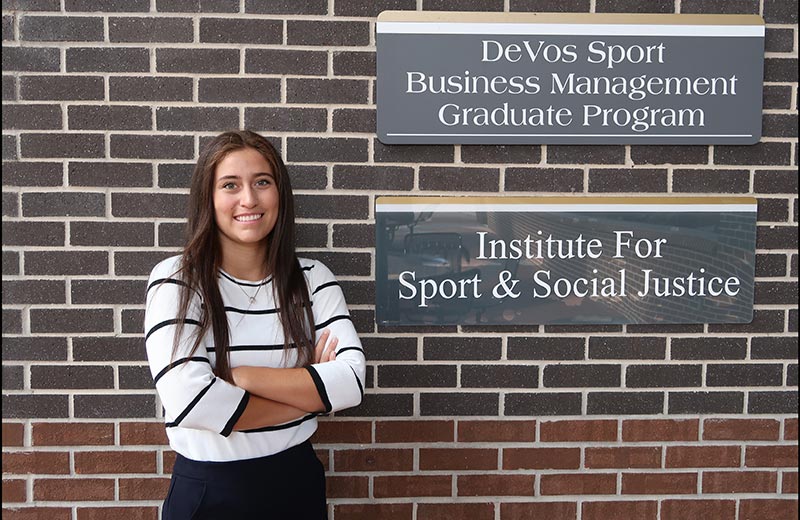 When Gabriella Pacetti '19 BS found out she had been accepted into the DeVos Sport Business Management Program at UCF, she was shocked.
"I was like 'Do they have the right person?' I really couldn't believe it," said Pacetti, who will start the program in August. "I called the office right away to accept the offer, even though it was 7 p.m."
This accomplishment makes Pacetti the first kinesiology student accepted into the DeVos program, one of the top five programs in America by the Wall Street Journal, New York Times and ESPN the Magazine. The program is a combination of courses in the master's in business administration and the master's in sport business management program.
Originally, Pacetti's dream was to become a nurse, but once entering college, she began talking with different programs and departments about other career options, including kinesiology, formerly known as sport and exercise science.
"As I started taking more classes, I started veering away from the medical side of the profession and moving more toward the administration side," she said.
Pacetti's new dream was to become an on-campus recruiter, working with college athletic departments to recruit high school students. With the encouragement of one of her professors, senior lecturer Thomas Fisher, she began to consider applying to the DeVos program.
"At one point, I thought, 'Oh, I'm not good enough to get in' and he was like 'You never know until you try'," Pacetti said. "He pushed me to keep going."
Fisher, who wrote Pacetti's recommendation letter, called her a "pioneer" for being the first kinesiology student to enter the DeVos program.
"We have a long history of our students getting into physical therapy or medical school," Fisher said. "Not many of our students pursue a business degree or a sport business degree. "She will be able to pursue her two passions of working with athletes and working in the business side of sports."
Fisher reminded Pacetti of two key points that he stressed to her during his office hours and while she was a student in his motivation class: Pay attention and keep a daily journal. But he also knows that Pacetti will accomplish anything she sets her mind to do.
"She is a person of courage," Fisher said. "She did the work needed to get to where she is now and where she is going."
Pacetti credits UCF for her success thus far and believes that UCF will continue to provide her with additional tools to be successful as she pursues her master's degree.
"I owe everything to UCF," she said. "All my classes were taken here; all my professors were here. Who I am today is because of UCF."