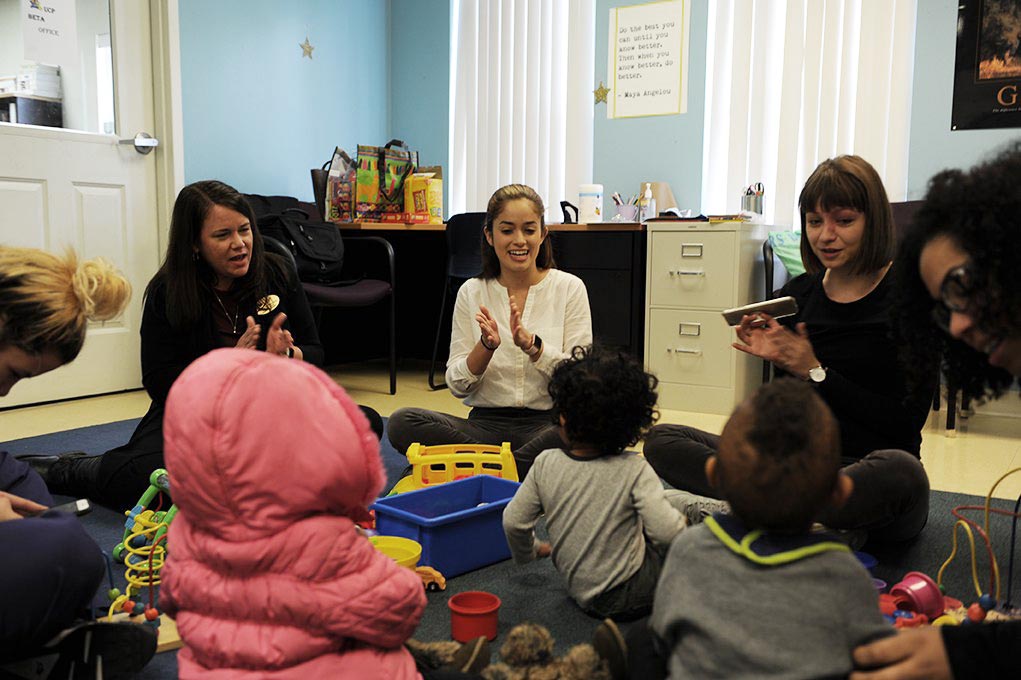 Diana Abarca is a UCF undergraduate who conducts research every Friday at the Beta Center/UCP Downtown campus in Orlando.
She runs and evaluates playgroups at the center, under faculty supervision, to help young parents develop stronger communication skills and strategies with their children. She also will help analyze the data she collects.
Abarca didn't plan to engage in undergraduate research, but she was inspired by Jacqueline Towson, an assistant professor of communication sciences and disorders who joined the UCF faculty in 2015.
Among Towson's goals is to engage students, particularly undergraduates, in research, the same way a professor mentored her while she was a college student.
"Undergraduate students sit in a classroom and learn the theory and everything about research," Towson said, "but they never get that hands-on experience."
Towson includes passionate discussions about research in her classes, which motivates students such as Abarca to approach her to learn more and become involved.
"She has given me opportunities to do things in my undergraduate career that I would not have done anywhere else," said Abarca, a senior communications sciences and disorders student. "She pushes me a lot to get out of my comfort zone."
Towson also has involved Abarca in writing two research papers and another one that's in progress.
Alexis Burruano also assists with the research study at the Beta Center/UCP Downtown campus and said she's learned a lot about the research process through the hands-on practice.
"Before I did research, I had no idea what it was like," said the senior communications sciences and disorders student. "Before I never considered [research as] an interest to do in graduate school, or seriously getting a Ph.D."
Towson also mentors graduate students such as Juliana Hirn, who began working with Towson as a LEAD Scholar research student in spring 2016.
Hirn describes Towson as "one of the most amazing people to work with" and someone who shares her love for research — and cupcakes — with her students.
"She is one of the most caring, respectful and professional professors that I have had," Hirn said. "She's been a great mentor to look up to. I hope to be half the person that she is some day."
Towson said that working with students at UCF has been a pleasure and an adventure she hopes to continue for years to come.
"I am blessed with great students," she said.