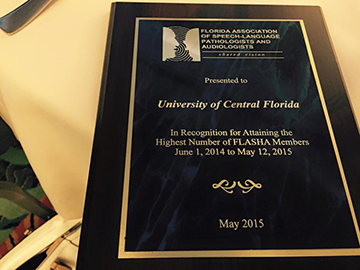 The 2015 Annual Convention of the Florida Association of Speech-Language Pathologists and Audiologists (FLASHA) took place May 28-31 in Fort Lauderdale.
The Department of Communication Sciences and Disorders had a strong presence at this year's convention, including student and faculty presentations, a FAAST Atlantic Region Assistive Technology Demonstration Center exhibition, and a Listening and Spoken Language Track supported by AG Bell Florida and the UCF Listening Center.
Members of the department were bestowed the following distinct honors:
FLASHA scholarship of $1,000 awarded to master's degree student Rachael Mocerino
Recognition for attaining the highest number of new FLASHA members
3rd Place Poster Award for the presentation titled "TAACL-ing Assessment for Individuals with Complex Communication Needs: Exploring Modification," authored by Clinical Instructor Pamela Resnick and master's degree students Kelly Williams and Sasha Ruiz
2nd Place Poster Award for the presentation titled "AAC Access for Patients in Medical Settings," authored by recent graduate Stephanie Amundsen, M.A., CCC-CF, and faculty members Jennifer Kent-Walsh, Ph.D.; Bari Hoffman, Ph.D.; and Kenyatta Rivers, Ph.D.