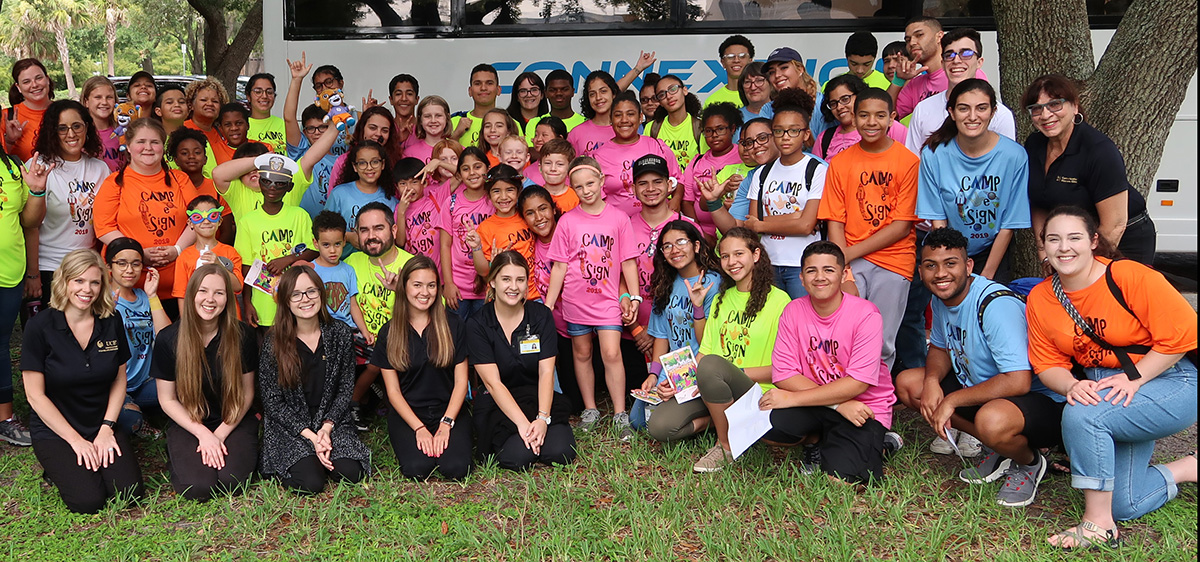 Children from Camp We Sign, a Central Florida summer camp for children with hearing or language disorders, traveled through the Enchanted Forest with Snow White, Prince Charming and the Evil Queen, along with some other "shadowy" characters.
The 30 children, along with eight UCF graduate students from UCF's School of Communication Sciences and Disorders, were spellbound by the production at Orlando Shakes, where the performers were joined by "signing shadows" – American Sign Language interpreters – to tell the story of the Evil Queen's attempts to eliminate Snow White and become the fairest in the land.
The trip to the theater was sponsored by the UCF Listening Center, directed by Linda I. Rosa-Lugo, using funds provided by Victor Oladipo. In 2015, Oladipo, a former Orlando Magic basketball player, donated $35,000 to the Listening Center in honor of his younger sister, who became deaf in the second grade.
Prior to the performance, the campers and the graduate students crafted items related to the fairy tale, including mirrors, castles and crowns, to help give the campers an immersive experience. Six of the campers were also selected participate in the play as the other dwarves, marching around the Enchanted Forest and discovering Snow White asleep in the cabin.
The CSD students communicated with the campers and the counselors using a variety of language skills, including listening and spoken language, sign language and vocal cues.
"This is a really great opportunity to get the children and the clients out in the community and interact in a real-world setting," said Whitney Haas, a clinical educator in the communication disorders clinic. "It also provides the CSD students an opportunity to work with students more closely."
The experience also confirmed for graduate student Elizabeth Gordon that working with the deaf and hard of hearing community was what she envisioned doing in her future career.
"I love Deaf culture and I am passionate about early intervention," Gordon said. "I definitely want to work with children with hearing loss in the future to help them develop language skills."
Nicole Bagley, another graduate student, said this was her first time interacting with a large group of individuals in the field, but it confirmed that she was working in the right field.
"It gave me a 'real world' view of how individuals with hearing loss can be better served in the community," she said.
Bagley was very impressed by the professionalism of the actors and interpreters, who interacted with the audience during and after the show. She observed that some of the children were speaking to each other through sign language about their favorite part of the show.
"Before being presented with the opportunity to volunteer at this event, I didn't know there were productions like this offered in the community," she said. "When I begin practicing as a speech-language pathologist and see clients who are deaf and hard of hearing, this is an event that I will certainly recommend parents taking their children to."