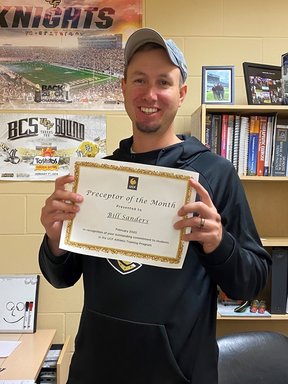 The student athletic trainers who get the opportunity to work with Bill Sanders have nothing but positive things to say about him. Encouraging. Energetic. Patient. Funny. Relatable. These are just a few of the observations the students make when describing this preceptor who inspires future athletic trainers.
Sanders graduated with his athletic training degree from the University of Wisconsin-Milwaukee. He transferred to UCF as a graduate assistant for UCF Football and Women's Golf while earning his MS in sport nutrition from the sport and exercise science program. He is currently employed full-time through a partnership UCF Athletics maintains with Advent Health.
Working as an athletic trainer with UCF Football is a busy and sometimes stress-filled job. You wouldn't know it when you are with Bill Sanders, though. Students say he fills the athletic training room with his compassion, love of the job, and funny "Dad" jokes, all while maintaining the highest quality of care and professionalism.
Sanders is a natural teacher. Always up to date with the latest information for the athletic training profession, he presents NATA position statements and articles to the students and then encourages questions and discussion. His patience and encouragement keep the students motivated and excited to learn. When it comes to competencies, Sanders breaks them down in detail and works with the students until the skills are mastered. When time permits, he brings the students together to examine various diagnostic images and then tests them on diagnosing the pathology. He is always available for questions and encourages students to think critically. They appreciate how Sanders explains situations in ways that are relatable to their coursework, bringing clinical and didactic together.
Sanders also takes time to talk to the students about their future and career goals. He makes sure students write down their goals to maintain a clear focus and stay on track to achieve them. "Bill loves athletic training, and he naturally makes those around him love it, too," says Ally Montero, a senior in the program. "Having him as my preceptor has been a great experience and has allowed me to grow and become a better athletic trainer."
Did you know?
When Bill Sanders isn't working, his favorite pastimes include fishing and softball.
To learn more about Bill Sanders, check out this link from Advent Health:
https://www.adventhealth.com/hospital/adventhealth-orlando/blog/football-injuries-how-your-favorite-ucf-knights-return-field