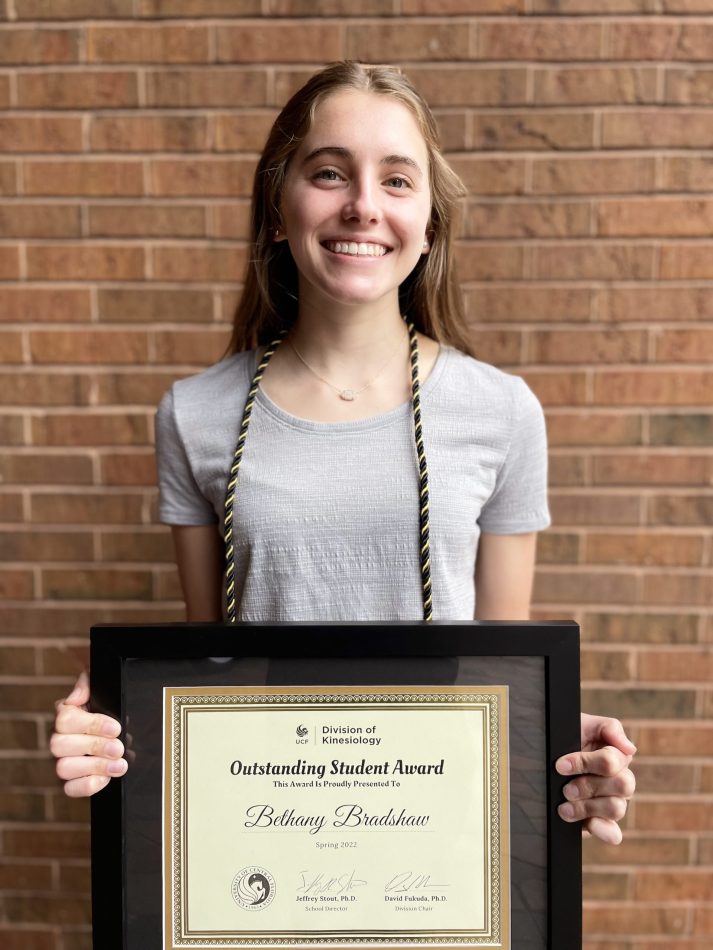 Congratulations to Bethany Bradshaw, who has been selected as the spring 2022 "Outstanding Student" for the Division of Kinesiology. 
This award, presented to one student each fall and spring semester, recognizes a junior or senior kinesiology undergraduate student who demonstrates excellence in scholarship, leadership and service. 
"The Division of Kinesiology is proud to recognize outstanding students, such as Bethany Bradshaw, for their incredible efforts in the classroom," says kinesiology undergraduate program coordinator Alison Redd. "Bethany is a shining example of a hard-working student and has shown impressive dedication to her studies." 
Bradshaw was nominated by Tina L. Dow, an assistant professor of medicine, who describes Bradshaw as an engaged and organized student, actively involved at UCF, and a positive individual both inside and outside the classroom. 
In addition to excelling in her studies and maintaining a 4.0 grade point average, Bradshaw has also been involved in undergraduate research. She recently conducted research that investigates the subtypes of military PTSD and efficacy of treatment, as well as co-designed a suicide prevention social media awareness campaign. 
"Regardless of the weight of her many responsibilities, Bethany's positive attitude is never diminished," Dow says. "She always greets others with appreciation and a smile."