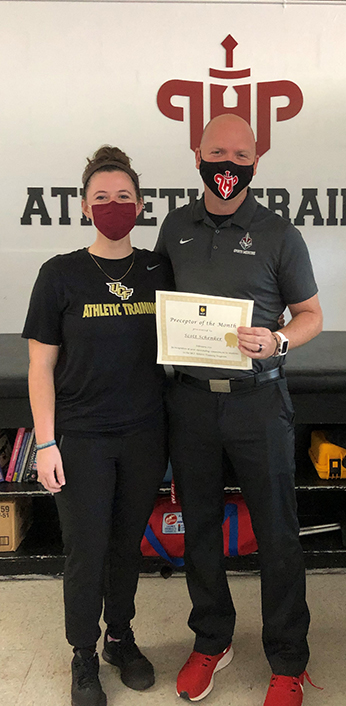 It is our pleasure to announce that Scott Schenker, head athletic trainer for Lake Highland Preparatory School has been selected as our February 2021 Preceptor of the Month.
Schenker is a highly engaged athletic trainer committed to promoting the mission, vision, and values of the athletic training profession. His dedication shines through as a preceptor for the program. Whether he is creating policies and procedures to protect athletes during Covid-19, improving his school's AT facilities, or simply engaging with students and athletes, Schenker exemplifies everything athletic trainers should be as patient centered healthcare providers.
According to Mollie Przybocki, second year MAT student, Schenker sees the potential in students and pushes them to be the best clinicians they can. He makes sure there is always time to practice competencies, learn new skills, answer questions, and create learning opportunities from all aspects of the job.
"There is rarely anything that comes up which Schenker doesn't already know how to handle," says Przybocki, "but if there is, he immediately researches information and shares what he finds. He is always excited to share or discuss something new."
Schenker is a natural teacher, and his students say it is an absolute pleasure to work with and learn from him.
"He pushed me to become the type of clinician I want to be in practice. The belief he had in my skills gave me the confidence that I was searching for and I'm thankful for his guidance. Schenker truly does go above in beyond for his students, patients, and the whole Lake Highland community. I'm grateful to have had him as a preceptor and watch how he positively impacts so many people around him," says Przybocki.
The program is also grateful to have Scott Schenker as a mentor in the Post-Graduate Mentoring Program where he helps recent graduates transition to practice as independent healthcare professionals.