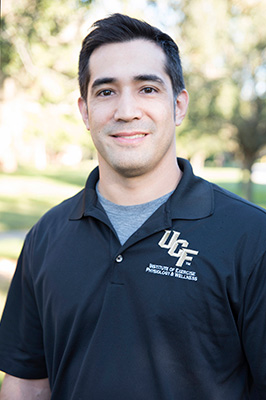 Sport and exercise science assistant professor David Fukuda's passion for judo and wrestling shaped his career. He's a former national and international judo competitor and judo black belt who enjoys coaching and enriching the lives of others through his research.
He received his bachelor's degree in operations management from Boise State University in Boise, Idaho and was a capacity analyst after he graduated from college. Fukuda decided to change his career path and enrolled in the physical therapy program at the University of Oklahoma Health Sciences Center in Oklahoma City, Okla. During his time at the university, he met sport and exercise science professor Jeffrey Stout who encouraged him to enroll in the exercise physiology program.
Fukuda found his true calling and received his master's and Ph.D. degrees in exercise physiology from the University of Oklahoma. He became an exercise science assistant professor at Creighton University in Omaha, Neb. after graduation and accepted a sport and exercise science assistant professor position at UCF in 2013.
The next step in his career includes serving as the senior associate editor of "The Journal of Strength and Conditioning Research." He also served as the journal's associate editor, author and reviewer and contributed to the National Strength and Conditioning Association (NSCA) Research Committee.
The NSCA's research journal features articles based on studies about applied science of sport to nutritional interactions with training to manuscripts seeking to improve the knowledge-based practices in the world of strength and conditioning and improve the understanding of sport science.
Fukuda received the NSCA's Terry J. Housh Outstanding Young Investigator Award in 2016. The award is given to a researcher who has been in the field for seven years or less and recognizes his or her noteworthy contributions to the applied exercise and sport science field.
His extensive research background includes experience with physical assessments involving body composition, cardiometabolic health, neuromuscular function, training monitoring and performance testing, and in the area of combat sports and martial arts with investigations involving novice practitioners to youth athletes and elite competitors.
Fukuda enjoys mentoring and collaborating with graduate students along with assisting his students with publishing their research and preparing them for their future teaching careers.
"Preparing students in the field to give back and extending your legacy with those who you have helped along the way is important," said Fukuda.
His current research interests include the effects of upper body exercise, which may have implications for athletes as well as people who have limited mobility and collaborating with sport and exercise science assistant professor Jeanette Garcia in implementing judo programs for children with autism.
He has also co-authored publications with international colleagues from Brazil, Italy, Israel, Japan, Poland and Spain.
In his new senior associate editor role, Fukuda will be assisting with managing submitted manuscripts through the peer-review process by identifying and inviting qualified reviewers and providing publication recommendations. This opportunity will help him contribute more to his field.
"I believe it's a natural progression of service that's being taken to another level," said Fukuda. "I'm hoping to bring a fresh or different perspective in my new role and engage with international researchers who haven't been tapped before and provide opportunities at a larger scale."