Available UCF Kinesiology Scholarships
We offer an array of scholarships for students in Kinesiology undergraduate and graduate programs. For all scholarships administered by UCF, students must apply through the A2O platform. Students are encouraged to apply as soon as applications become available, typically in the latter half of the spring term. Some scholarships in the A2O system are specifically for UCF Kinesiology students, while other scholarships are available through the college and the university. We encourage students to apply for all scholarships they qualify for.
| Award | Name |
| --- | --- |
| $1,500 | Invincible Knights |
| $1,500 | Kinesiology - Jeffrey Law Memorial Scholarship |
| $1,000 | CHPS College Wide Graduate Scholarship |
| $1,000 | CHPS College Wide Undergraduate Scholarship |
| $1,000 | The Variety Children's Charity of Florida James Bohannon Memorial Endowed Scholarship |
| $500 | Kinesiology Graduate Scholarship |
| $500 | Kinesiology Undergraduate Scholarship |
External Scholarship Opportunities
These scholarships are awarded by outside organizations and are not reflected in the UCF A2O system. However, many of our students will qualify for these scholarships. Please use the links below to learn more about these scholarship opportunities.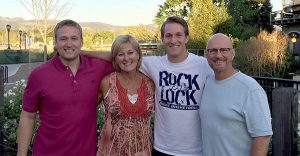 The Jeffrey D. Law Memorial Scholarship was established in 2019 by Ed and Julie Law, Jeff's parents, and Matt Stock, a faculty member in the School of Kinesiology and Physical Therapy to honor Jeff's legacy and to benefit future leaders in strength and conditioning.
Law was the first student that Stock ever advised as a professor. "Jeff definitely kept me on my toes," Stock said. "He was constantly reading, and he knew his stuff. And if he didn't know something, he would ask me. If he wasn't satisfied with my answer, he would do some more reading and come back and educate me."
Law loved the field of strength conditioning. This scholarship supports students who share that same passion and want to positively impact the lives of the athletes they work with. This scholarship is a way of extending Law's passion through future generations of sport and exercise scholars.
APPLY BY MARCH 12th
Scholarship applications are only available online through the A2O portal. You will only see scholarships for which you meet the basic eligibility requirements.
Establishing your own scholarship program is an excellent way to create a legacy and support promising and deserving students. These gifts can also be a meaningful act to honor or memorialize friends, educators, or family members. Your generosity will ensure that the best, brightest, and most deserving students are supported on their path to excellence.