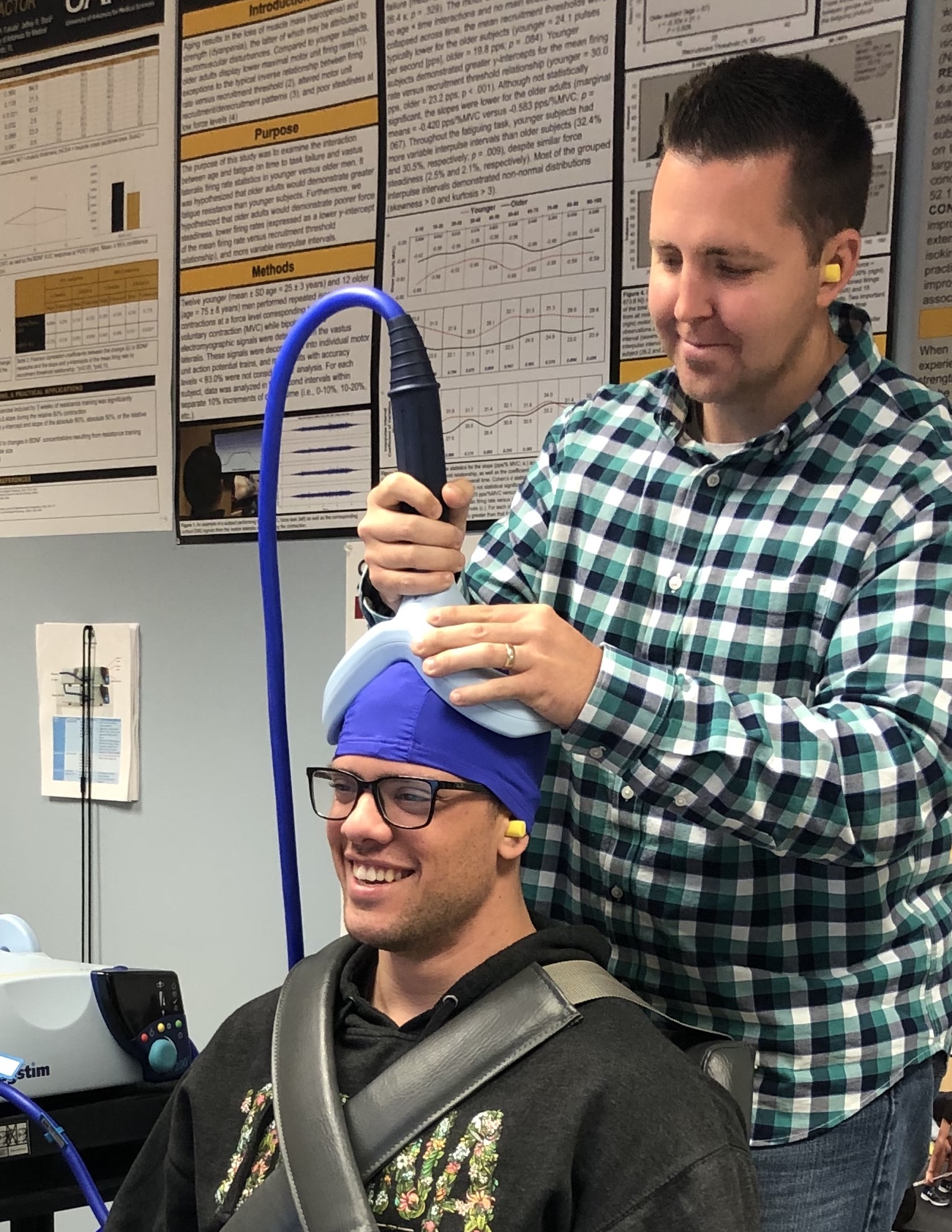 The purpose of this study is to examine test-retest reliability of measurements of corticospinal excitability and inhibition when testing lower-body muscles. A brain stimulation technique known as transcranial magnetic stimulation will be used to deliver pulses to the motor cortex during muscle contractions. Participation in the study requires 2, 3 hour visits to the UCF Neuromuscular Plasticity Laboratory. The results from this investigation will have important methodological implications in studying central nervous system adaptations for lower-body muscles.
Inclusion Qualifications:
Men and women
Age between 18-35 years
Exclusion Qualifications:
You may not participate in this research opportunity if any of the following applies to you:
Neuromuscular (e.g. Parkinson's, MS, ALS) or metabolic disease (e.g. diabetes, thyroid disorder, metabolic syndrome)
Major musculoskeletal injury or surgery within the previous year.
Previous right knee surgery (regardless of time since surgery).
Arthritis
Trouble using or controlling one's muscles
Use of anabolic steroids within the previous year
History of cancer, stroke, or heart attack
Use of muscle relaxants or benzodiazepines
Allergy to rubbing alcohol
Any other health related illnesses that would prohibit a participant from physical performance testing
Lack of transportation to and from the laboratory
Pregnancy
Get Notified of Future Opportunities
Subscribe to our email list to be automatically notified of all future research participation opportunities as soon as they become available.
UCF IRB#: STUDY00001263
PI: Matt S. Stock, Ph.D.
IRB Expiration December 16, 2020
Recruitment End Date:
December 1, 2020
Location:
UCF Partnership 1 Building
12354 Research Parkway
Room 221
Orlando, FL 32826
Time Commitment:
Number of visits: 2
Expected time per visit: 3 hours
Compensation:
Type: $20 Target gift card for completing both visits ($10/visit)
Point of Contact:
Matt S. Stock
Associated Units:
Kinesiology
Physical Therapy
Exercise Physiology & Rehabilitation Science

Related Research Participation Opportunities