Rebecca Kleckner may not wear a football jersey on Friday nights, but in her role as an athletic training student with the Windermere High School football team, she helps ensure the team's success by helping the players stay safe and healthy.  
Kleckner, a second-year master of athletic training student, is completing her immersive clinical education this semester with rotations through different sports teams at Windermere High School. After this semester, she will have accumulated between 450 to 600 hours of direct patient contact under the supervision of a licensed and certified athletic trainer. Football is the first sport she has supported at Windermere High School.  
Clinical training is an important aspect of the MAT program. Students complete five clinicals, which allow them to put into practice all the skills and knowledge obtained as they progress through the program. Students gain experience in a wide variety of settings, including all levels of team sports, clinics, and even industrial settings. 
Kleckner, who grew up participating in sports, originally wanted to work as a physical therapist, but she didn't like the idea of working all day inside a clinic. She appreciates the opportunity athletic trainers have to work in a variety of fast-paced environments with a diverse group of patients.  
Aside from the knowledge she has gained during the experience, she says she also values the connections she has built with the team during the season. 
"As an AT, you get to see the athletes grow and you get to grow with them during the season," she said. "You get the chance to see what works best for the athlete and build that bond with them."  
Kleckner's first clinical rotation experience in the program was with the UCF women's volleyball and basketball teams in fall 2020, as well as UCF football. In spring 2021, she worked at Edgewater High School with all its sports teams. This ensured she gained diverse experience covering both male and female athletes as well as focusing on injuries involving both upper and lower extremities. 
Now at Windermere, under the guidance of her preceptor Jillian Sutton '15, she has enjoyed working with the football team and putting into practice the concepts she has learned in class.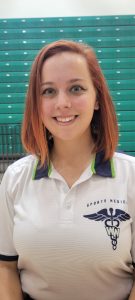 "My first rotation, I was watching more and learning from the experienced clinicians," Kleckner said. "Now, I'm more confident. I've had the chance to test the skills that I've learned and to see that what I have learned at UCF has been beneficial." 
Throughout this football season, Kleckner performed examinations of student-athlete injuries, developed rehabilitation plans, performed preventative treatments, prepared medical kits and supplies for the team, and supported the team during home and away games. 
As football season ends, Kleckner said she will miss the rush of excitement from the Friday night lights, but is looking forward to continuing to grow and develop her skills as she works with athletes in the other 34 sports offered at the high school to round out her clinical education experience.