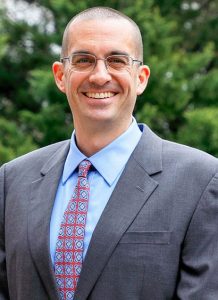 The UCF College of Health Professions and Sciences welcomes Matthew Theriot, who will lead the School of Social Work as its new director starting August 8, 2021.
As a faculty member for more than 17 years at the University of Tennessee at Knoxville, Theriot served in several leadership roles. He was the director of ASCEND, a National Science Foundation-funded program to promote the recruitment, hiring, retention, and advancement of female faculty in STEM disciplines, and served in key positions in the provost office to drive faculty and leadership development, online programs, and strategic initiatives. He led both the UTK social work undergraduate program and the doctoral program in his role as director. Outside of the university, he advanced the profession of social work by serving on the board of directors for the Council on Social Work Education, as well as its commission on membership and professional development.
He earned his bachelor's and master's degrees in social work at the University of Texas at Austin and his doctoral degree in social welfare from the University of California at Berkeley. Prior to his career in higher education, he worked as a school social worker, child welfare worker, and mobile crisis counselor. His research focuses primarily on juvenile violence and delinquency, with a special interest in school violence and school security. His secondary areas of research are social work education and mental health service utilization.
"Dr. Theriot is a proven leader in higher education who has a passion for social work," said Christopher D. Ingersoll, founding dean of the College of Health Professions and Sciences. "He is highly skilled at translating strategic initiatives into actionable items that drive excellence. His expertise will greatly benefit our students, faculty and staff as we transform healthcare and improve lives."
Ingersoll says he is grateful to Ana Leon, who served as interim director of the School for two years and provided leadership and support to the School's initiatives focused on student enrollment and success, research, curriculum development, program development and community partnerships. Her leadership was key to the School's successful navigation of the COVID-19-pandemic.
"Dr. Leon was instrumental in helping us lay a strong foundation for the college and positioning the School of Social Work to achieve its goals. With Dr. Theriot's leadership, we will continue to prepare career-ready social workers and future leaders in social justice," Ingersoll said.
The UCF School of Social Work includes 320 undergraduate students and 580 graduate students and a social work track in the public affairs doctoral program. Theriot will oversee support staff and 80 faculty members across three academic programs in the school, including the BSW and two tracks of MSW programs (in-person and 100 percent online program). He will further interdisciplinary collaboration within the School as part of the Academic Health Sciences Center while building on the school's success.
"I'm thankful for this incredible opportunity to join the outstanding faculty and staff in the School of Social Work, collaborate with wonderful colleagues across the CHPS, and be part of the dynamic UCF community," said Theriot.
Theriot and his wife, Emily, have three children and a house full of pets. They are looking forward to enjoying the vibrant Orlando area and the warm Florida winters.