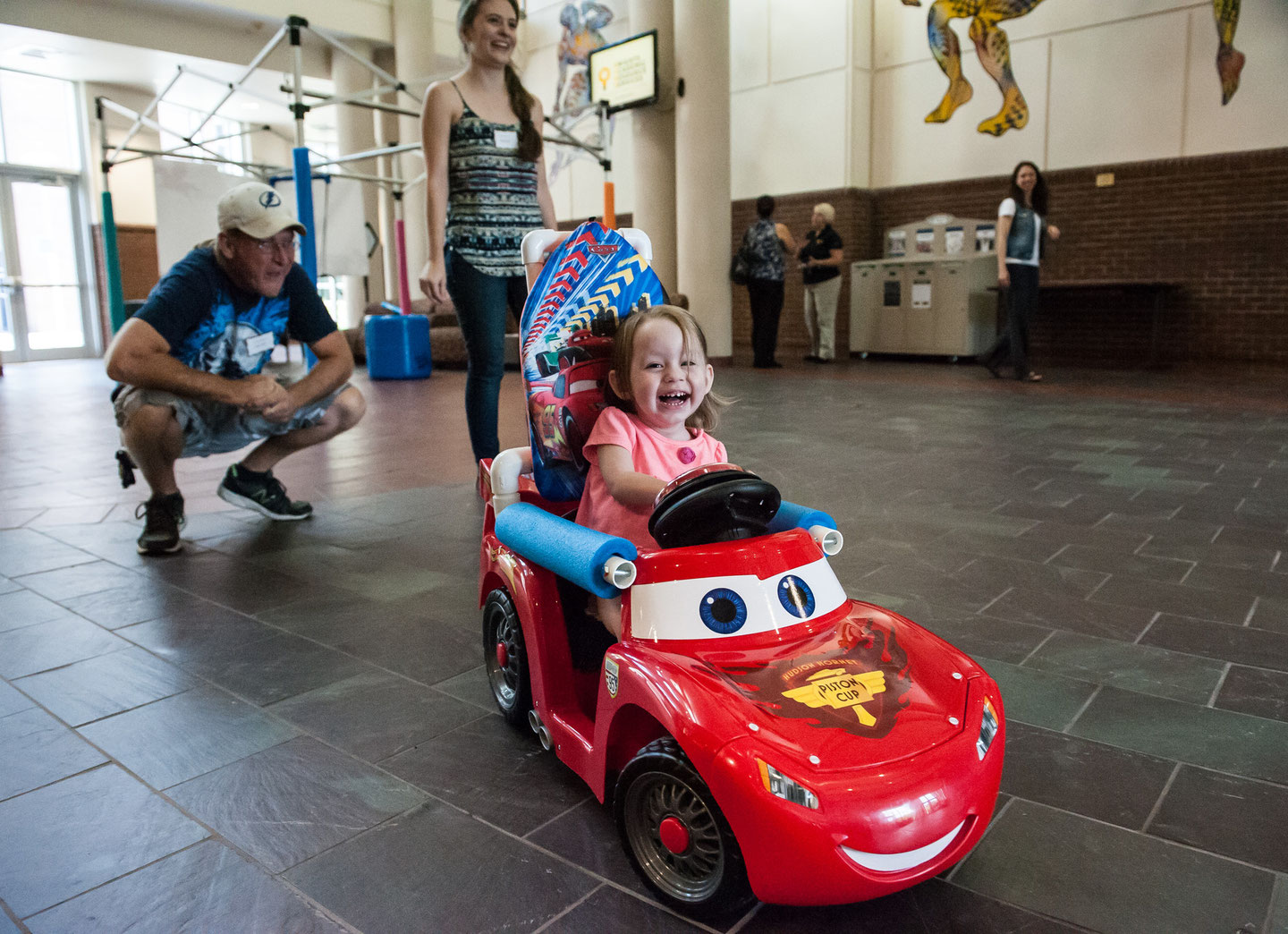 Barnabas Dowdell was born with Down syndrome, and moving his lower body is a challenge. So his mom was astonished when the 13-month-old drove his new retrofitted motorized toy racecar zooming past a UCF building.
"This by far exceeded all my expectations," said his mother Shannon Dowdell of Merritt Island. "I came here hoping he'd enjoy himself, and inside of 30 seconds of being in the little car he was doing things he's never done before. He pushed up, he's never done that before. His mobility has already improved and I'm just so grateful."
Barnabas (right) and 10 other toddlers with special needs watched as their physical therapists worked alongside University of Central Florida faculty to retrofit motorized toy cars as part of an official GoBabyGo event May 29.
"I want parents to know that if they missed today, it's not a missed opportunity," said Jennifer Tucker, the faculty member in the Doctor of Physical Therapy Program who is leading the effort for UCF. "We'll be doing more of these workshops and we hope this is just the beginning. "
The hope is to establish an innovative center for mobility at UCF in partnership with GoBabyGo founder, Cole Galloway. The center would focus on researching and developing new and inexpensive mobility options for children and adults with motor impairments; teaching the next generation of physical therapists best practices; and offering the community a clinic where children and adults could gain access to mobility devices tailored toward their unique needs.
GoBabyGo is a national movement led by Galloway, a professor, physical therapist and associate chair at the University of Delaware. He's been helping groups across the country learn how to retrofit toy vehicles since 2012. Galloway's expertise focuses on motor behaviors of infants, especially in the area of neural, biomechanical, behavioral and environmental influences as they learn to coordinate their early head, arm and leg behaviors for later skills, such as reaching, sitting and walking. The National Institutes of Health and National Science Foundation fund much of his work.
Galloway spent two days at UCF teaching faculty and parents about why movement is so important in the social and physical development of children and some of the latest research and physical therapy techniques that can make a difference. He demonstrated innovative techniques to help give children independent movement. As part of the workshop the families received the retrofitted vehicles at no cost to them. It costs less than $300 to adapt the vehicles for the children.
"I'm just so thrilled," Dowdell said as she watched her son start and stop his vehicle in front of the College of Health and Public Affairs I building Friday. "And his future is so bright with UCF starting a program for adults like my son who want to get a college degree. There's so much potential here. It is amazing."
UCF is launching an innovative post-secondary educational experience in the fall by offering individuals with intellectual disabilities immersive campus and vocational opportunities to achieve excellence in college and beyond. More information on the program can be found through UCF's Inclusive Education Services.