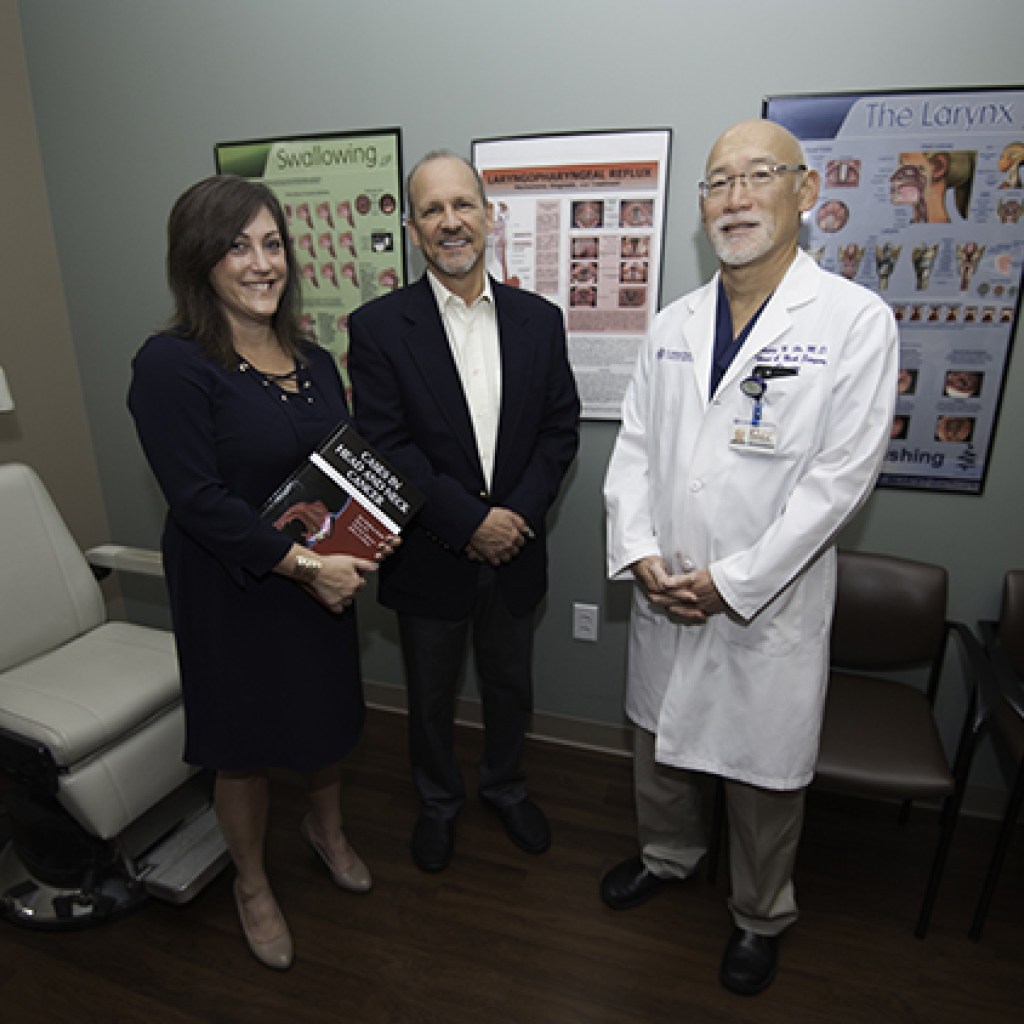 Cases in Head and Neck Cancer: A Multidisciplinary Approach presents a comprehensive overview and detailed examination of the continuum of care for patients, from diagnosis to treatment, and the coping associated with survivorship.
Rather than using a one-size-fits-all approach, the book discusses multidisciplinary treatment, said its lead co-editor and co-author, Bari Hoffman, associate professor of communication sciences and disorders. It focuses on humanistic care, educating readers on the critical importance of helping patients understand procedures and how to use adaptive equipment.
The compilation of book chapters, five of which were written by Hoffman, is an excellent resource for medical students, speech-language pathologists, nurse care managers, dieticians, pathologists, social workers and others who work with patients with head and neck cancers.
The book comes with over 40 case study videos and multiple audio clips on a companion website. Each case has pre- and post-treatment scans including MRIs, endoscopies, PET scans and video fluoroscopies, along with multimedia on testing procedures, treatments and therapies.
"The cases shed light on what it's like to be actively involved in treatment based on a variety of factors, such as a tumor's size and location, the impact on swallowing and communication, and the impact on caregiver burden and burnout," Hoffman said.
"The textbook was written to empower active learning. The cases were written to illustrate the often complex medical pathway that a patient with head and neck cancer experiences," she added.
"It's not just black and white with regard to the differential diagnosis and treatment decisions that a clinician must face when working with this patient group," she said. "The contributing authors and their extensive experience in major hospital systems, private practices and sophisticated training centers have brought together a comprehensive, multidisciplinary view point of what the real life experiences are for patients with head and neck cancer."
Usually, students have to learn this information via internships and clerkships specializing with this population, which only happens for a small number of them.
"You're applying what you're reading, troubleshooting and sharpening your skills by determining if you perceive what the expert sees," Hoffman said.
Released by Plural Publishing in April, Cases in Head and Neck Cancer is available at www.pluralpublishing.com/publication_chnc.htm.
An Important Collaboration
This unique book represents an important collaboration between the University of Central Florida and its medical partners, especially the Florida Hospital Cancer Institute. Lead co-editor and co-author Bari Hoffman, Ph.D., invited community and national leaders to contribute chapters focusing on their specialties, such as Henry Ho, M.D., and Jeffrey J. Lehman, M.D., otolaryngology physician colleagues from Florida Hospital Cancer Center, and her doctoral mentor, Christine Sapienza, Ph.D., dean of the College of Healthcare Sciences at Jacksonville University. With these colleagues, Hoffman wrote five of the chapters. UCF department colleagues Clinical Instructor Nancy Harrington and Professor Jennifer Kent-Walsh, Ph.D., contributed information on assistive technology, Adjunct Instructors Linda Stachowiak, Annette May and Vicki Lewis extended their clinical expertise in medically complex patient care. Chair and Professor Richard Zraick, Ph.D., contribute contemporary information on health literacy. Experts from MD Anderson Cancer Center, The Cleveland Clinic and other hospitals wrote on topics such as the Human Papilloma Virus (HPV) and Cancer of the Larynx.