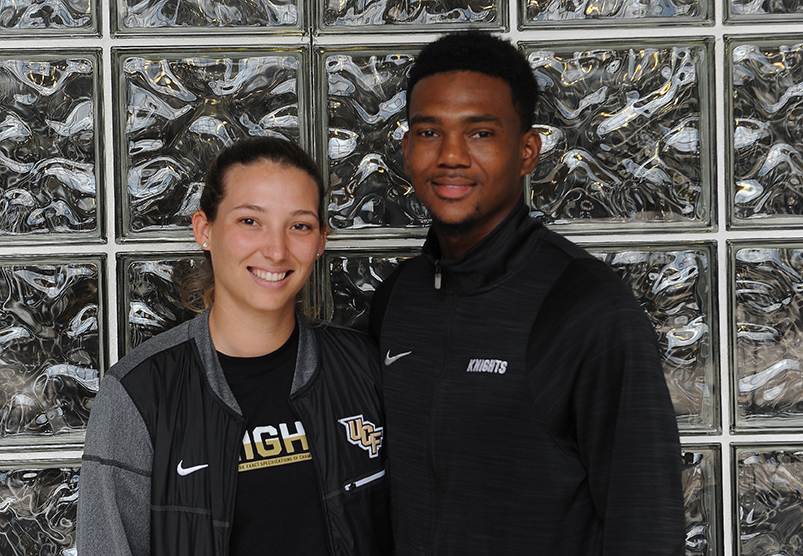 This past football season was more than just a win for the UCF Knights football team and coaches.
It was also a win for athletic training students Alina Verdeja and Peterson Francois.
"When I was congratulating the coaches, they were congratulating me too," Verdeja said. "Because it was just as much a victory for me as it was for them."
Verdeja and Francois are two seniors in the university's Athletic Training Program who worked with the football team during a season that Verdeja described as "crazy."
"No one expected to go 12-0," she said, "so being a part of it has been an incredible experience."
The journey to an undefeated season was time-consuming and vigorous for the student athletic trainers. They attended morning drills with the team at 6:30 a.m., classes all day and treatments until five or six in the evening. The students also helped with setup and breakdown, assisting with rehabs, packing trunks and more.
They developed a trust and bond with the football players, who would ask them questions about injuries and pain, challenging the athletic trainers to seek the answers.
"We're the glue between the players and the volunteers and the students to make sure that everything runs smoothly," Francois said.
Both students appreciate the exposure they received both in the classroom and on the football field. They believe that their hands-on experience as undergraduates has well prepared them for the future.
"I don't believe other schools have a program like we do at UCF," Francois said. "We learn and see both at the same time. We can promote our profession a lot better."
They also feel just as much a part of the team as the coaches and players, Verdeja added.
"Working here … I feel genuinely appreciated and what I do matters," she said. "They [the coaches and players] have always made me feel a part of the team."
It hasn't been just fun and games though; working with the team has pushed and challenged the students.
"I see them doing something great, so why can't I do something better for myself?," Francois said, adding that the team's drive for success has inspired him to push for his best in school and life.
Francois and Verdeja both have some words of wisdom to offer younger athletic training students; don't take constructive criticism as a personal attack, don't make the same mistake twice and always stop, look and listen before doing anything.
As the UCF Knights pack up their bags and go to the Peach Bowl in Atlanta for the new year, Verdeja and Francois, who have never been to Atlanta before, are thrilled to be attending with the team.
"It's historic for the team, it's historic for me," Verdeja said, "so I'm excited to see the vibe at the stadium. People are pumped and we're pumped, too."