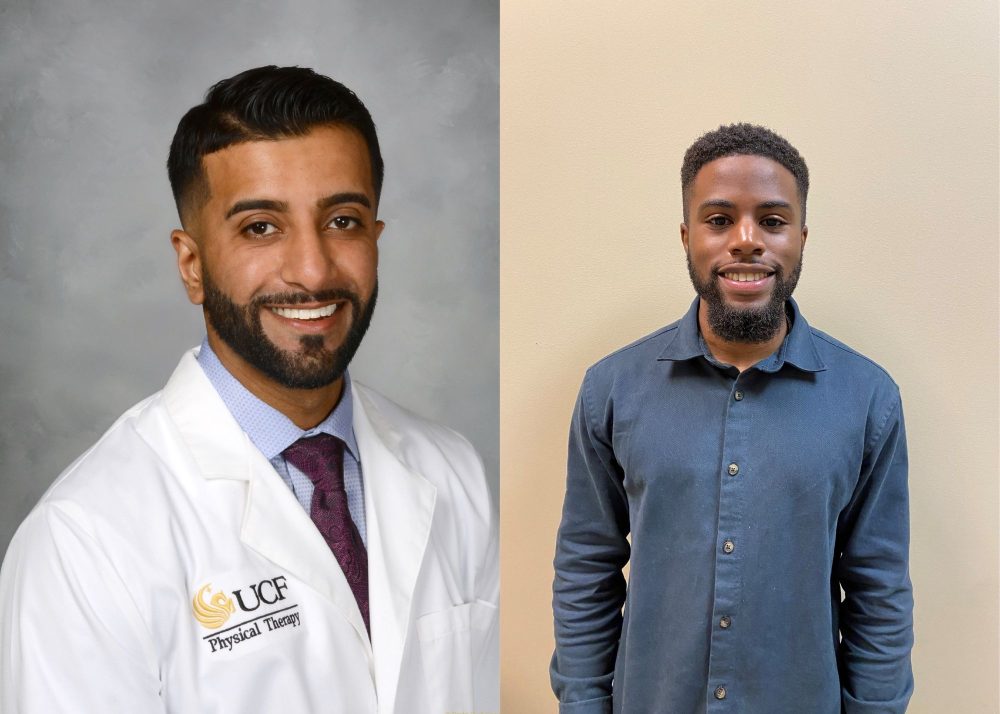 Uzair Hammad and Stephon Moise, both alumni from the DPT program who are currently completing residency programs, have been selected as the inaugural Rizing Tide Surge scholarship recipients. The Rizing Tide Foundation provides the scholarship to those completing PT residency programs who come from an underrepresented racial and/or ethnic background. 
Hammad is in the UCF and Orlando Health Neurologic Residency program, and Moise is in the AdventHealth Orlando Orthopedic Residency program.  The $10,000 scholarship will be paid directly toward their residency program and cover residency-related expenses, such as tuition, books, specialty certification exam fees, room and board, and other related fees and expenses. 
"The American Physical Therapy Association has been at the forefront lately to push for diversity, equity and inclusion in the profession," says Morris "Rick" Beato, assistant professor and residency director for the Division of Physical Therapy. "This is important as it gives minority patients a sense of comfort and security to see a healthcare provider who looks like them." 
Hammad, who aspires to serve the neurological patient population following his residency, says the scholarship will help him realize his vision where healthcare providers see patients as a whole person rather than a diagnosis or condition. He is especially excited about building connections through the Rizing Tide community for support as he develops his career. 
"Residency training has provided me with the knowledge, tools, resources, experience and mentorship necessary for me to serve the neurologic patient population," Hammad says. "The training I have received so far, and will continue to undergo, will accelerate my ability to touch the lives of these patients and train other providers to do the same." 
"Finding my way as a physical therapist was challenging without having many black male therapists to look up to and model myself after," Moise says. "As an inaugural recipient of this award, I hope to help pave the way for minority students and professionals to push beyond the boundaries and cultivate diversity at the highest level of our profession."