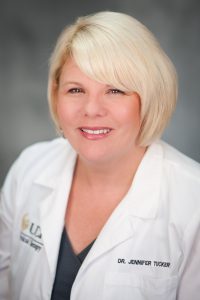 The Center for Success of Women Faculty has selected physical therapy Lecturer Jennifer Tucker to receive an annual Women of Distinction award.
Tucker if one of just three women faculty members at UCF to receive the award this year.
An announcement in UCF Today reports:
Jennifer Tucker [is] a lecturer in the Department of Health Professionals in the College of Health [and] Public Affairs. As a practicing pediatric physical therapist, she has developed relationships in the community that strengthen her courses and research at UCF. A big part of her community engagement is caring for children with disabilities.
Read about the award and this year's recipients at Center for Success of Women Faculty Honors 3 Women of Distinction.