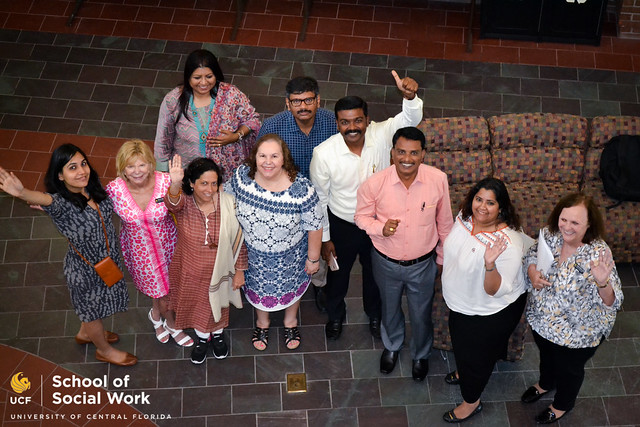 Seven representatives from India's judiciary, education, and counseling fields recently visited UCF's School of Social Work to better understand the processes by which our students are taught about domestic violence cases, with a focus on the impact it has on children.
In collaboration with the World Affairs Council of Central Florida, the delegates are seeking information to present to their government officials on whether India should be a signatory to the Hague Abduction Convention or create their own alternative bill that seeks to essentially do the same.
The School of Social Work's Director and Professor, Bonnie Yegidis Ph.D. presented alongside Associate Professor, Olga Molina, D.S.W., LCSW and Associate Instructor and Director of Field Education, Jacqueline Withers, M.S.W., LCSW, to discuss their research on domestic violence. "Many people don't realize that in domestic violence situations, children are often abused too – not only the spouse," says Molina.
The presentation was followed by an extensive question and answer session where delegates and professors had a lively discussion about the field cases they are often presented with. Each delegate was intrigued by the similarities and differences in the judicial process of custody agreements.
The Hague Abduction Convention is a multilateral treaty with the purpose to protect children from the harmful effects of international abduction by a parent by encouraging the prompt return of the abducted child to their country of habitual residence, and to organize or secure the effective rights of access to a child. The idea is that custody and visitation matters should generally be decided by the proper court in the country of the child's habitual residence.