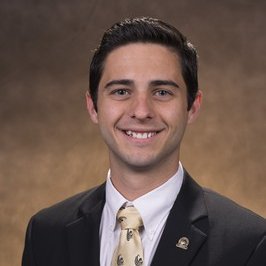 Recent graduate Aaron Pollock excelled as an honors student in the Health Sciences Pre-Clinical Program in the College of Health and Public Affairs and the Burnett Honors College.
"Aaron was an exceptional student who served in multiple leadership positions, one of which was the President's Leadership Council with President Hitt," said Assistant Professor Suha Saleh, director of the pre-clinical program and co-chair of Pollock's Honors in the Major research.
His hard work paid off this spring when he gained acceptance into the UCF College of Medicine.
Pollock has impressed many, so much so he's been the subject of recent news profiles by the Burnett Honors College and UCF College of Medicine, identified below.
Med School Welcomes Class of 2020 – Aug. 1, 2016