About half a million people in the United States know American Sign Language, but Bill Cooper, UCF's only ASL instructor, is changing that – 250 students at a time.
Cooper, who was born deaf, teaches nine sections of ASL 1 – 4, seven for the School of Communication Sciences and Disorders at UCF and two at Valencia Community College. He has continued this pace for approximately the past five years, and his ultimate dream is to create an ASL interpreter certification program at UCF.
The need for certified ASL interpreters is strong, Cooper says, and their services are in high demand across many industries, especially education, entertainment, legal, medical, and government and administration.
Recently, uncertified sign language interpreters have made almost as much news as the events they were hired to interpret. Their inaccurate or fraudulent interpreting left Deaf and hard-of-hearing communities without access to reliable news.
"In times of breaking news or emergencies, it's important that all of us receive accurate information," Cooper says.
Although Cooper's classes give students a strong base in sign language, ASL interpretation is both a science and an art, he says, and interpreters must undergo substantial training and testing to receive national certification.
Interpreters may make it look easy to sign as someone is speaking, or to speak as someone is signing, but there are many split-second decisions that an interpreter must make for interpretations to flow coherently.
It's not as easy as putting words to signs, says Cooper. There are grammatical differences between English and ASL. For example, "There are no linking verbs in ASL," Cooper says. "If we were to meet, I would sign, 'My name Bill, your name what?'"
Cooper's passion for teaching ASL not only comes from his own experiences, but from a deeply rooted desire to empower future professionals and leaders with the ability to create higher levels of inclusion for the Deaf and hard-of-hearing (D/HH) community.
Cooper graduated with a business degree from Gallaudet University in Washington, DC, the world's only university in which all programs and services are specifically designed to accommodate Deaf and hard-of-hearing students. After spending a few years in the corporate world, he became a high school teacher and in 2015 he joined the School of Communication Sciences and Disorders at UCF.
"Once I discovered teaching, I never went back," Cooper says.
Currently, Cooper is using an interpreter for the online classes, but when he teaches face-to-face classes, he only uses an interpreter for the first few weeks – and only in the initial ASL course.
To ensure the students get practice during class, he uses the breakout feature of Zoom to pair students so they can sign with each other; the feature also allows Cooper to "drop in" on the students to assess their progress.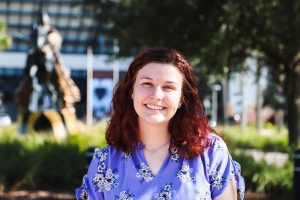 Abbie Brown is one of Cooper's ASL 2 students. She is studying exceptional student education and says ASL will be helpful as she goes forward in her career.
"I felt that learning sign language was the first way for me to demonstrate that I was committed to inclusivity," Brown says.
She has already had opportunities to utilize her ASL training in the community through Special Olympics, and through chance meetings in the mall with D/HH people who were engaged in ASL.
"There have been times at the food court when I saw people next to me signing," Brown says. "I said hi to them and introduced myself as an ASL student. They were so nice and happy to sign with me."
Cooper and his wife, Marjorie, who is also D/HH (and an occasional special guest during his classes), began teaching their three children ASL at a young age. He says it was no different than teaching any child a language – certain signs were guaranteed to get their attention.
"They always knew ice cream," Cooper says, gesturing with his fist in front of his mouth and bringing it down twice, which is the sign for that delicious frozen treat.
In addition to a fondness for ice cream, the similarities between the deaf and the hearing communities are greater than the differences, Cooper says. Pre-pandemic, Cooper required his students to immerse themselves in deaf culture to not only become more proficient at ASL, but also to dispel any preconceptions they may have.
Before the classes transitioned online, Cooper would have role-playing exercises to demonstrate how to interact with D/HH individuals. He also created a Facebook page for the UCF ASL Club for anyone who is interested in deaf culture.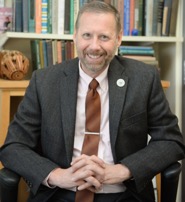 "Bill Cooper has helped so many students expand their impact to the deaf community," says Gregory Lof, interim director of the School of Communication Sciences and Disorders. "Students from so many different majors across the university are taking this skill with them into their profession and helping to find ways in their own circle of influence to make changes to be more inclusive."