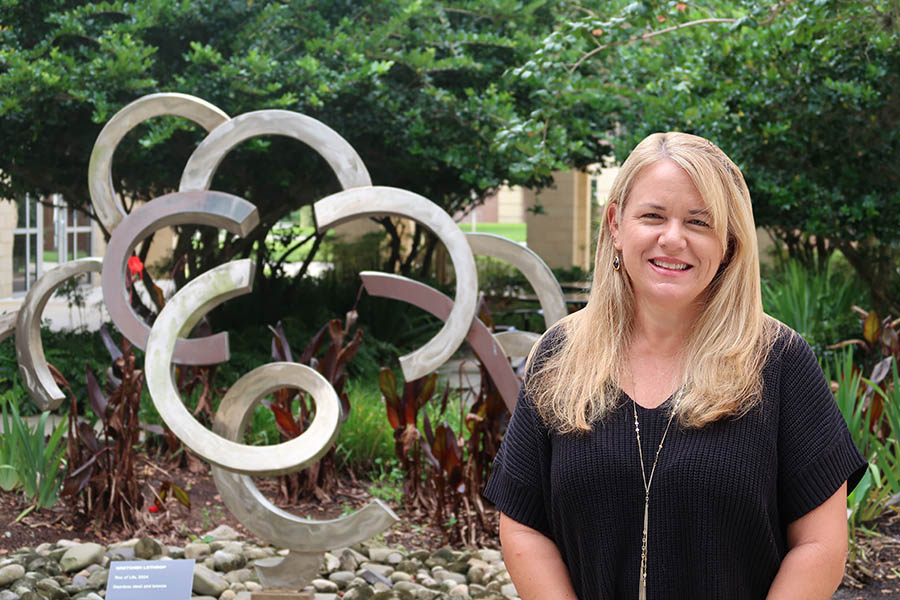 For nearly 15 years before coming to UCF, Jacqueline Towson served in the Georgia and Texas public school systems as a speech-language pathologist and an early childhood special education teacher; and later, as an administrator of those programs. As rewarding as that work was to her, she wanted to do more to help as many children as possible.
Her passion has always been to improve access to early language development in children through speech-language pathology and early intervention services.
"Early language and literacy are the gateways to everything for children," Towson says.
To impact children more broadly – beyond those whom she saw in her classroom – she knew she had to get her doctoral degree. She earned her PhD in Education of Students with Exceptionalities with a focus in Early Childhood Special Education from Georgia State University.
After graduating, she accepted a tenure track faculty position at UCF because she said it allowed her to collaborate with other experts in the field who share her passion for teaching, her love for research, and her desire to help as many children as possible receive access to early language and literacy services.
In her multi-hatted role as an academic faculty member, administrator in the School of Communication Sciences and Disorders, and lead researcher on a statewide personnel preparation grant for educators, Towson has discovered a way to leverage her impact. She has combined her interests in developing evidence-based practices to serve children with developmental delays with facilitating improved access to these practices by developing professional resources for teachers and SLPs.
Her first research grant at UCF was a small internal seed grant to evaluate the effectiveness of training classroom teachers to implement dialogic reading with preschool children with significant language impairments. Towson leveraged the data collected from that investigation to apply for the first of several grants from the Department of Education. So far, she has received over $1.7 million for personnel preparation projects.
Towson has also spread the word about best practices for early learning acquisition through more than 55 national and international refereed conference presentations since 2013, and more than 20 publications during her time at UCF. This work has earned her recognition from her peers in the form of prestigious UCF awards, including the Research Incentive Award, the Scholarship of Teaching and Learning Award, and the [email protected] Women Faculty Recognition Award.
Through her network of colleagues and community connections, Towson has built on research about playgroups and the benefits they have for mothers and toddlers who are at risk for early language delays.
For example, over the past five years, Towson and her graduate students have been working with young mothers and their babies at the BETA Teen Parent Connection, an alternative campus for teen mothers that includes childcare. There, she has been collecting data in preparation for applying for Additional research grant funding to examine use of her playgroup model to improve early language acquisition outcomes.
"I love what we do at BETA," Towson says. "As a clinical practicum site, it provides a resource for graduate students to earn supervised clinical hours, in addition to being educational for the students, parents and their children."
One of Towson's biggest professional motivators is knowing there are children and families out there who are going without services due to a shortage of personnel available to help them.
Toward that end, she recently was the co-PI on a $1.25 million grant from the United States Department of Education that allows graduate students to earn a certificate that prepares them to work with children with high-intensity needs who require specialized intervention in language and literacy.
The first cohort graduated this spring and summer, including ten students from the School of Communication Sciences and Disorders who received a Graduate Certificate in Autism Spectrum Disorders.
"Even though I am still interested in shared interactive reading, and the many ways to prompt children to expand and build on their language, I have also become very interested in the related area of adult training to impact children's language," Towson says. "Thanks to a grant from the Central Florida Foundation, Towson has been examining professional development models  to help teachers in low-resourced childcare centers learn to interact as effectively as possible with children at risk for language impairments.
Towson is also the newly named principal investigator on Florida's Technical Assistance and Training Systems, a statewide training project funded by the Florida Department of Education and designed to implement a system of technical assistance and training to improve educational results and functional outcomes for young children with special needs and their families. TATS is based at UCF, with staff providing technical assistance and training in six regions throughout the state.
This grant involves the perfect vehicle for Towson's program of research goal to not only help children improve their early language acquisition but accomplishes this by working with the adults who teach them — a practice that will exponentially expand her impact. Towson's work represents her two greatest professional passions: mentoring students and facilitating professional development for those who share her passion of language enrichment.
"I'm preparing students to best assist children with early language development, and I'm providing tools for other SLPs to use that will improve outcomes – I'm super excited about this," Towson says. "These basic skills, like reading, are essential building blocks for communication, and we know we can make the most impact the earlier we start."