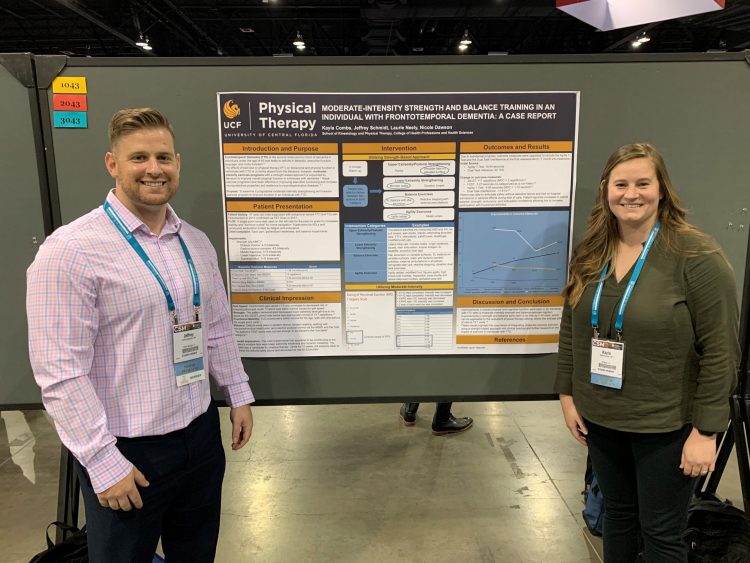 Two recent physical therapy alumni played a key role in increasing the mobility of a dementia patient during a 12-week physical therapy session where by the end, the patient no longer needed his cane to walk. They used their experience as a research opportunity to examine the impact of physical activity on cognition.  
Jeffrey Schmidt '20 and Kayla Lawing '20 met the patient during a Brain Fitness balance and mobility seminar at a church in Winter Park, in early 2019. The patient was 47 years old, which is considered young for dementia patients, and had frontotemporal dementia. 
Lawing and Schmidt were curious to see if physical therapy treatment would help dementia patients find success in slowing the effects of dementia on their physical health. They built their treatment plan based off research of their professor, Nicole Dawson, which showed benefits of moderate-intensity exercise for dementia patients. They focused on four main categories during the treatment: lower body strength, upper body strength, balance and agility. 
"For him specifically, we were working on balance, and we wanted to see him walk without his cane," Schmidt says. "We also wanted to see how his diagnosis of dementia impacted his mobility and cognitive functions, especially since he was younger than your average dementia patients." 
Schmidt and Lawing worked with the patient through various exercises, such as walking backward and putting one foot in front of the other, to improve his mobility throughout the spring 2019 semester at the UCF iMove Lab. 
As the patient progressed, Lawing and Schmidt included cognitive exercises, such as reciting the alphabet during exercises, to improve his cognition and mobility at the same time.  
Lawing and Schmidt's research, which looked at the efficacy of utilizing a strength-based rehabilitation approach for individuals with dementia, was presented at the American Physical Therapy Association's Combined Sections Meeting in February 2020 in Colorado. The full research paper, titled "Moderate-Intensity Exercise in an Individual with Frontotemporal Dementia: A Case Report" was published in the journal Case Reports and Reviews: Open Access in June 2021, after the students' graduation.  
The most impactful results from the research, however, was seeing the patient improve in mobility, strength, balance, agility, and dual-task interference. By the end of the 12 weeks, the patient no longer required the use of a cane to walk. "It was really fun for me to take everything that we had learned and put it into practice, but it was even better to see how his quality of life improved," Lawing says. "This is one of the reasons why physical therapy is my passion. We can make a difference in people's lives as movement specialists."