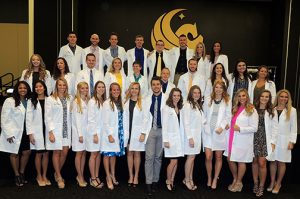 The Doctor of Physical Therapy Program held its Class of 2017 White Coat Ceremony on Saturday, Aug. 8, in the Student Union's Pegasus Ballroom.
The ceremony marks the transition of D.P.T. students from the academic portion of their curriculum to the clinical portion. The latter consists of internships throughout the United States and advanced coursework on evidence-based clinical practice.
This year, 32 second-year students received white coats.
"We are very proud of these students and wish them well on their first clinical that will begin in the fall semester," said Program Director Patrick Pabian.
The D.P.T. program has been holding its annual White Coat Ceremony since 2008.
Visit UCF Physical Therapy on Facebook for more photos.